Attention: As a gift to you, I am ready to share some insider secrets that every Coach, Consultant, Speaker, Author and Service Professional like you needs to know about their business–at ZERO cost!
"Would You Like 3 New Clients This Month?"
How About Improving Your Visibility, Establishing Your Expertise In Your Niche, and Finally Building An Abundant Business–For FREE!
If you are tired of struggling looking for clients that adore you, that appreciate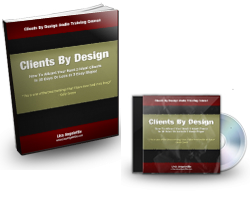 your expertise, that pay you on time, and that are excited to step up in a bigger way with you, then I invite you to grab your FREE copy of my audio and action guide training class: Clients By Design — How To Attract Your Next 3 Ideal Clients In 30 Days (or less:) Using 3 Simple Steps!
As a former struggling psychotherapist and coach myself, I'm not going to bother with all the reasons why you should take advantage of this training. You know why. You're sick of feeling like any minute this "coaching thing" or this "consultant gig" is going to fail. You're tired of looking around at the entrepreneurs who have got it figured out and are making a great living and more importantly living a more freedom based life.
There is a reason for this. A simple, no fuss, strategy that I have figured out through trial and error of my own and blended with some strategies from mentoring with 7 figure industry leaders. In fact when you download my FREE training you will learn these 5 essential strategies for consistent client attraction:
1. How To Get Started Enrolling Clients Right Away
2. How To Make Sure That You Are Trying To Attract The Right Clients For Your Business
3. The Critical Mindshift You Must Make In Order To Attract YOUR ideal Clients
4. A System That Will Not Only Help You Book More Clients But Create More Income Streams In Your Business
5. The #1 Strategy That Will Have Clients Seeking YOU Out Instead Of You Desperately Searching For Them
Connect Instantly With Facebook


OR

Just enter your first name and best email address in the form below to get instant access via email. When you do, you'll get instant access to the free training and you'll also receive my award-winning marketing articles every week.
The following two tabs change content below.
I make a living writing, ePublishing, and marketing books and teaching others how to do the same. I have one mission: To turn you into the best writer that you can be while enjoying every minute of it!
Latest posts by Lisa Angelettie (see all)