Blogs are born in all shapes and sizes.  But there is one thing that all Blogs have in common: someone, somewhere, had a dream.  Every single Blog that exists, exists only because someone had a passion, or a wish, or a dream.
And that dream was strong enough to motivate that person get up off the sofa, and Take ACTION, in order to make their dream come true.  All the other would-be Bloggers are still sitting at home watching TV – with no Blog to call their own.
Which sort of person are YOU???  Are you serious about setting up a blog?
If you really are going to take active steps to set up a Blog, the first and most important question you must ask yourself is:
Why Do I Want to Set Up a Blog?
Only you can answer this question.  And everything you do in your future blogging life will depend on your answers to this question.  There are no Right or Wrong answers.  Before anything else, you need to know WHY you want to set up a blog, and WHAT you want to achieve with your blog.
The 'HOW' of setting up a blog comes later, after you know what sort of blog you want to set up.
Some Reasons Why You Might Want to Blog
The reasons WHY you want to set up a blog, and what you hope to achieve with it, dictates everything you need to do when you get down to the job of setting it up.
For example: Blogs that are designed to bring you untold wealth and an early retirement are a completely different kettle-of-fish, to the Family Recipe Blog.
[Disclaimer: Untold wealth can mean anything from $1 to $1,000,000 - that's why it's called 'untold'.  Neat, eh?]
1. The Photo Album/Travel Blog
You might want to share your photos with family and friends, but you hate Facebook.  I understand that perfectly – it's a perfectly valid reason.  I sympathize.
2. The 'I Know How to Set Up a Blog' Blog
This is a greatly under-rated sort of blog, and it's one of my favorite types.
Sometimes we just need to impress people – Right?…Right!
 Feeling undervalued?  Do the kids think you are still living in the Dark Ages?  Ha! No way! Set up a blog (before they do ?) and you will Rock!  Or maybe, sway… just a little.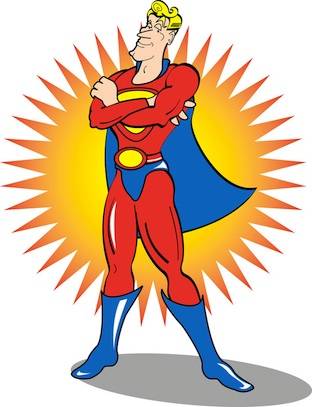 This sort of blog has the big advantage of not requiring much on-going work.  Setting it up and then bragging about it, is it's sole purpose.Then, after your friends and family have been suitably impressed with your talents and brilliance, you can move on with the rest of your life, with head held high, and an Eat-My-Dust, Super-Hero Self-Confidence that will leave them gasping in your wake.  Brilliant!  Yes!
3. The 'Dear Diary' Blog
This type of blog will be a blog where you write and publish, thoughts and events that you are willing to share with the world.
There is nothing wrong with starting a 'Dear Diary' Blog.  Sometimes we just have to 'tell someone' what we are feeling, don't we.
Warning: Don't share with the world, thoughts that are best kept private. Using this Ninja Tip can save you from some tricky personal complications…such as divorce.
If you want to keep your thoughts personal, and for your eyes only, don't start a Dear Diary Blog.  Keep your innermost thoughts on a File on your Computer, or only confide in the dog.
Extra Ninja Tip: do not call this private File: FMEO (For My Eyes Only). Why? Because some clever-clogs kid will come along and wonder what's hidden in your FMEO file…. I'll let you imagine the rest of that story.
4. The Personal Fortune & Early Retirement Blog
You might want to find a way to help to pay the Bills every month.
Great idea, but you will want to set up a completely different style of blog to the Photo Album or Personal Travelogue types of blogs.
NB. How you set up a blog so you can pay the Bills every month is not something to think about at the moment.  That will come later, after you have made a committed decision to actually get this baby on the road – and what sort of baby it's going to be.
Free Bonus Ninja Tip:
If you are having trouble deciding what sort of a blog you want, don't ask your friends what you should blog about. Why?
It's your blog.  You know best what you want, and why you want it.
If you can't work out why you want to blog for yourself, your friends aren't going to know what YOU want, if you don't know that for yourself.
If you are blogging because someone else gave you an idea that they say is the current best money-spinner – forget it. Why?
Do they really know that the topic is a potential cash cow? I doubt it. The more important reason is that if you had to ask someone else what you should blog about, you will not be sufficiently interested in that topic to be able to write a new and riveting post on that subject every 2 or 3 days – for several months. Because that is what will be required if you want to set up a serious blog that brings you visitors who are not just your family and friends. If you want to set up a blog to make money, you MUST choose a topic you have a passion for, or else you will quickly get bored with it after a month.  And then it will fail.
More Ninja Tips: What To Do If You Are Unsure What To Blog About
Ask yourself: 
What am I good at?
What do I know a lot about?
Do I have any hobbies?
Is there something I have a passion about?
Is my passion, or hobby or knowledge likely to be of interest to others?
If you hope to make money with your blog, also ask yourself:
1. Is the Topic I'm interested in, something someone else would pay money to know more about?
2. Are there enough people out there who would be willing to pay money for what I can offer them?
Note: This article cannot cover the mysteries of 'Niche Topic Research', or 'How to Find Markets Where You Can Make a Killing', or Affiliate Marketing.  How you do that can be found on the Internet…or at my own blog, My Second Million.
Really, Really Important Ninja Tip for Young Players:
Do NOT tell all your friends you are going to set up a Blog before you actually do it.  Why?  If you tell people what you intend to do before you do it, you have put yourself in a No-Win situation.  Really? Yes, really! Think about it:
Possible Outcome 1:You succeed in setting up a blog.
Great, but is anyone impressed?  No. Is anyone surprised? No. Why? You have only done what you said you would do. Nothing more.  They are not impressed with your brilliance because you flagged this event earlier, before you had anything to impress them with.
You raised their expectations, and now you have fulfilled them.  So what?  It's no big deal – from their point of view.
Possible Outcome 2: You don't get around to setting up your blog. 
If you have not told anyone of your plans, you have lost nothing.  It's a personal decision with no public consequences.
But…if you have already raised people's expectations by telling them you are going to set up a blog, and then you don't: you have failed to deliver…you are now less in their eyes than if you had said nothing beforehand.
Flagging your intended achievements before actually achieving them is a No-No in everything you do in life, not just in blogging.  Yes, it applies to everything you do in life.
Special Ninja Life-Tip:
Always, always, always….first decide what you are going to do, then do it, then tell people what you have done.  That way, you will always give yourself the best chance to reap the true rewards for your achievements.
But if you do it in the reverse order, you will either fail to get the proper praise you deserve, or you will fail to live up to their raised expectations – expectations that you have loaded onto yourself – and you can end up damaging your image in the eyes of others.
Keep safe, friends….and keep Blogging.
Carol Manser specializes in easy to follow 'How To' articles on Blogging from Day1 to online Mega-Stardom – Think Big! is her motto. Visit her at http://www.mysecondmillion.com
Like what you read?

Then please join thousands of entrepreneurs who receive exclusive weekly online copy writing and content marketing tips, and get a FREE COPY of the eBook, Make An Ebook Tonight! Just enter your first name & best email address below: