Did Google Give Article Marketing A Slap Right In The Face?
If you have been thinking about using article marketing for some time but weren't sure about it, because of the rumblings on the web about Google's latest algorithm shuffle, then I have a few things to say to clear up any confusion…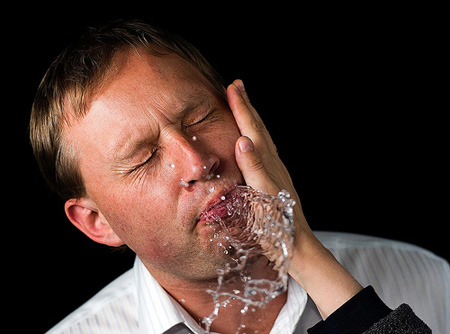 First – Let's Be Clear About What Article Marketing Is These Days.
As all things on the web, article marketing can move and bend and change shape as things shift on the web. It is no longer just a way to take an article and publish it to as many sites (junk or not) as you can. In fact, it is that very act that has a lot of site owners lower in the rankings and crying the blues — because the same articles were published to so many low quality directories and blogs. Quantity over quality is no longer effective article marketing. This is NOT how I get my oodles of #1 spots on the web, and this is not what I teach to nice folks like you. Look at what happened to poor JCPenny!
Second – Article Marketing Is Not Dead  – It's Just Going Through A Metamorphosis!
Google periodically shakes things up on their end to get rid of some of the dead weight and the site owners that were "getting over". This is nothing new and nothing to panic about. The reality about article writing is that it will always be relevant because content is the foundation of the internet. This is not about whether to use article marketing, but rather this is more about writing "better" articles and giving a damn about where they end up.
Third – Can You Please Just Step Up?
So how can you become Google compliant? Well the first step, is that you simply need to step up and write better! Stop believing all those hyped up "lazy marketer" ads. If you want a real, thriving business, then stop writing junk that you've thrown together in two seconds. Quit looking for a million shortcuts to create articles and other content. Get real in your business and start writing from the heart. That will be a great start to getting your content noticed, read, and virally shared with others.
Fourth – Get Snobby!
The next step is to make sure that you are being selective about where you publish your content. That is imperative. It use to be that you could publish your articles anywhere and get the benefit of a backlink. That has changed. Not Google notices what kind of sites are pointing back to you. Are they high quality? Are they even human updated? Or are they automated junk or scraper sites?
No now you have to be basically a snob and only publish to high quality, relevant, sites. This includes directories, other websites and blogs, and strong social media sites like Facebook and LinkedIn.
Fifth – Spread The Wealth
Don't just limit your article marketing to article directories. Share your work with high quality and niche focused third party bloggers and site owners. While the industry doesn't call this article marketing, but guest blogging or guest posting, let's be real about this. It's all marketing:)
Also, don't forget to add articles to your own site or blog. This is going to become much more relevant as the years go on. Get in the habit of doing this now. You want to create a direct path from a Google search to your site and this is how you accomplish that.
Conclusion
Let me put it this way, my overall rankings improved with the latest Google shake up. My keywords either shot up to #1 or fluctuated in the top 5 results. The reason for this is that I was a snob who stepped up long before Google forced my hand. Trust me when I say that there are many tricks of the trade to staying in favor with the web's largest search engine and I'd love to share them all with you, but this just isn't the platform for all I want to say.
In fact, I am planning a big ole' Google Love event which I will be inviting you to very soon. Look out for that to come shortly. In the meantime, do you have any questions about the latest Google algorithm updates that you want to ask? Leave them in the comment section below and I'll get right back to you.
The following two tabs change content below.
I make a living writing, ePublishing, and marketing books and teaching others how to do the same. I have one mission: To turn you into the best writer that you can be while enjoying every minute of it!
Latest posts by Lisa Angelettie (see all)