If you currently publish on the Amazon ecosystem (as I fondly call it) and you use Electronic Funds Transfers (EFTs) to receive your royalties, then you probably have noticed that you're seeing money deposited in your bank account on a more frequent basis. To which I say…YIPPEEE! I'm ecstatic, but some authors – not so much. This is because depending on the market your selling in and/or what you've asked for, Amazon may pay you via EFT, Wire Transfer or check.
Wire transfers a.k.a. bank wires typically cost the sender money($10USD or more), yet sometimes the receiver's bank will charge them a fee for receiving a bank wire as well. WHY? Well that's a question for your bank, but they typically charge and that's when this threshhold lift thing gets tricky. (At least that's what I've heard.)
I only get EFT payments from Amazon and I'm never charged a fee from my bank, so it works well for me. But some markets (foreign markets) may charge you for transferring funds, so you may want to check your KDP and CreateSpace account settings to see how each market is paying you. It may not be cost effective for you to receive your foreign income on a regular basis electronically if your bank charges you for each deposit.
That's why I've set the main site (Amazon.com) as well as the Japanese site to pay me via EFT, but most of my foreign markets are set to pay me by "check" only. So I'll have to wait to hit the threshold in those markets before I get paid, which is fine by me.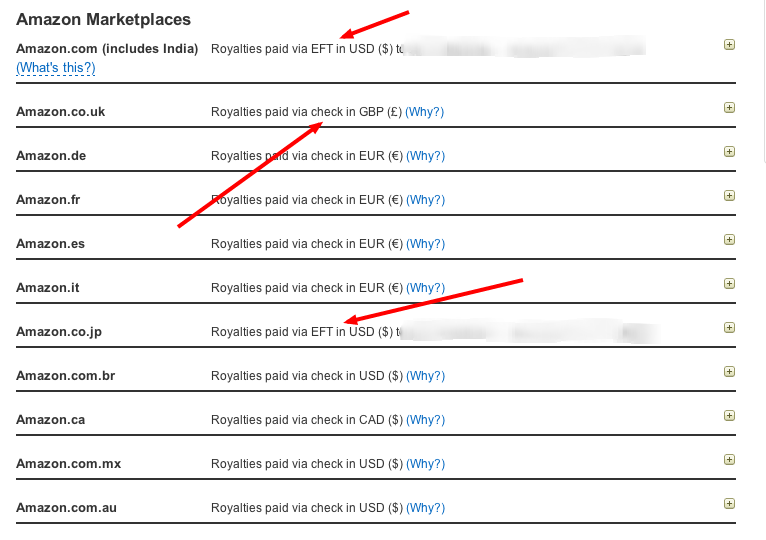 The moral of this story – check your settings:)