Welcome To Lisa Angelettie's Success Center
Proven Courses To Help You Quickly Write, Publish, & Market Like A Pro 
ARTICLE MARKETING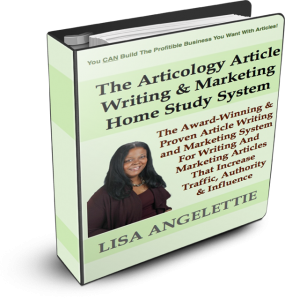 Do you need more web traffic? Do you need a bigger list? Do you want to be considered the go to expert in your niche? Then you need to write and publish articles on the web and this is the ultimate instruction manual. It will show you EXACTLY what to start doing–and stop doing–in your article marketing in order to start seeing REAL results, no matter how long you have been in business. I have outlined every Articology article writing, publishing, and marketing technique in detail, and it is all there so you can start using it right away to get similar results. It is all step-by-step, not a big mishmash of things. So, you do step one, and when you are done with that, you move on to step two, and so on. So easy. Nowhere else will you find it as simple to put all the necessary elements in place, in clear language, and very specific assignments.
This Course Is Sold Out
The following two tabs change content below.
I make a living writing, ePublishing, and marketing books and teaching others how to do the same. I have one mission: To turn you into the best writer that you can be while enjoying every minute of it!
Latest posts by Lisa Angelettie (see all)