How long have you been doing what you do and how did you get to be a Content Marketing Mentor & Strategist?
My work today really all started with what was a much needed wake up call in my life. When I was a teen I always knew that I had a calling towards entrepreneurship, but I fell into the typical path that most of us do. Go to College, build a career, have a family. But to me, I was really on a path of mediocrity because I wasn't living my truth and it was a hard pill to swallow!
Back when I was working as a psychotherapist in a private practice in New York City. I had just recently married and was pregnant with my first daughter Autumn. So one day whe I was 6 months pregnant and stuck in traffic on the FDR I had an epiphany. I did NOT want to do this anymore. Not like this.
So with my husband's blessing, I left the practice in New York, did a little basic research and opened my own practice – online. I called it and myself GirlShrink and I remember having about 5 pages on the site and like one email address for people to contact me about booking a session.
Back then we didn't have Skype, so it was really either a phone session or a chat. I told people in my immediate circle and some colleagues about the site and after that really just assumed that the clients would eventually come. In the meantime, I wasn't getting any new clients and I hated the site.
Early on I knew I needed more content. I didn't really totally understand why — I just knew that all the big sites had tons of content so I should too. That's when I began falling back on my past experience as a journalist (The New York Times, Gannet News, Publisher's Weekly) and began writing lots of mental health articles.
And then something wonderful happened which I wasn't planning on…people started visiting the site! Now back then, the site was on a totally html platform – no blogs, no social media. So no one could comment on the article, or tweet about it — but they could click on my link for scheduling a session — and I was smart enough to have implemented a 3rd party statistics tool so that I could track just where these new people were coming from.
They were coming from the search engines like Google! So people were typing in a search and finding my articles in the results — leading them straight to my website. And many of these people were booking sessions. And that's when the lightbulb went off for me.
What if I deliberately and consistently published content that readers looked for and liked? How many more clients would I have? But when I searched for information on how to do this, I couldn't really find any systemized or step by step information on how to do this.
So I made it my mission to put it together. Honestly for myself first, so that I would have a repeatable system that I could follow to keep my practice full. As I compiled it and tweaked it, it became a repeatable, verifiable, and consistent process that has continued to work for me in many niches. I ended up creating what is now the Content Rich Marketing System™. And so what ended up happening is that many of my colleagues who honestly were laughing behind my back at first, started to come to me and ask to be my client "Can you build a site for like yours?" "Can u show me what you do to attract new people to your site?"
So I took on a few of those clients just to pay for some extras, but when I realized how much of a need there was for people to learn how to fill their practices and build content rich businesses to do so, about 16 months later I stopped practicing as a therapist and LisaAngelettie.com was born.
Who Are Your Clients? Who Do You Typically Work With?
I specialize in working with solo entrepreneurs like you who have a specialized knowledge or training in what they do, and love what they do, but were never taught how to effectively market their business in order to attract clients on a consistent basis. I know this first hand trying to build my psychotherapy and then life coaching practices without any marketing strategy or systems in place. It was a nightmare!
I have worked with: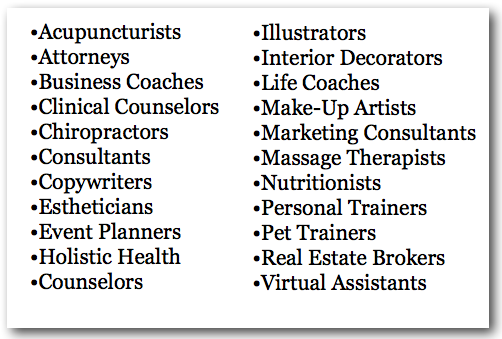 What happens if you haven't worked with people in my field?
What I know for sure is that ALL business owners need marketable content to thrive. In fact, recent statistics reveal that entrepreneurs as well as big brands such as American Express and Mint.com are planning on spending more this year on content marketing than they ever have. That is because it works. So if you don't see your industry on this list above, don't worry, my strategies for producing content that attracts clients & creates more income will work for any service professional in any industry.
How are you different from other small business consultants?
You will often run into small business coaches who do anything and everything in order to book the client and to get the work. Many small business consultants often know a little something about everything but do not concentrate on one specific strategy. In my business I focus specifically on working with independent professionals who need more clients and income using my content marketing strategies. Period. When you work with me, you are guaranteed to get very specific, customized, strategies and solutions around that area.
What type of entrepreneur do your programs NOT work for?
Based on several factors, I have to be selective about who I work with. The first consideration is time. There is only so much time I have to work with clients — so I am very picky about who they are because my #1 rule is that I always work with clients whom I LOVE working with. Second, I have to be fair to you and not select you if you are not a good fit for my programs. It's important to me that you get the results you deserve and that I support you in every way I can.
Content Rich Marketing programs are NOT for you if you have no money coming in and are living check to check, at least not right away. My reasons for saying this are that it's been my experience that you will be so worried about how to pay your bills that you will not be in the right place energetically to trust the steps I need you to make in order to move forward in your business. If this sounds like where you are financially, it's totally fine. We've all been there, including myself. So here is what you can do:
1. Work on getting some full-time or part-time income coming in and plan on setting aside a portion of that income to invest in your continued education. I cannot think of any of my successful peers, including myself, who do not invest in themselves. It's just par for the course. Another consideration is that if you are always worried about how you are going to pay your mortgage or if you only have enough money to invest in "one thing" and that better be the thing that works for you — your mind will be cluttered with fear and anxiety. Generating more income from another source will relieve that anxiety and allow you to focus on building your business in a more productive way.
2.Sign up for my free Content Marketing tools via email below. The information and resources I share with you on a weekly basis will help you get started working towards your goals until you are ready to work with me privately.
3. Make sure to cruise around my site. I have hundreds of pages of tips and strategies for getting started with building content that attracts new clients.
Doing these things will really help you get ready for the work that we will do together. So when you're ready, we will move forward confidently and quickly, but only when you're ready. I'm in no rush and I'm not going anywhere:) This is how I feed my 3 girls, so I'll be here when you're ready!
One more person who isn't such a good fit for me is someone who is chronically skeptical, negative, or a complainer. I have no room in my life for these types of people and respectfully ask that if you know that this is your personality – to not apply for any of my programs. We will probably not work very well together due to my lack of patience for this personality type, and I don't want to waste your money, time or mine either.
What Exactly is The Content Rich Marketing System™ and what does it include?
It is my experience that the key to consistently attracting new clients is to be crystal clear about who they are, what their major struggles are, and how to reach them through compelling and marketable content. The goal of my system is to help you create a "content rich" business that pulls clients towards you effortlessly. Here's what the System will help you put in action:
Step 1 – 17-Point Website Evaluation
Step 2 – Know Your Market & Communicate Your Message
Step 3 – Get Crystal Clear With Marketing & Keyword Research
Step 4 – Create A Signature System That Sells
Step 5 – Build Your Foundation With Articles & Article Marketing
Step 6 – Build A Blog That Masterfully Shares Your Expertise & Gets Traffic
Step 7 – Simple Search Engine Optimization Strategies That Get Google Love
Step 8 – Social Media Content That Sparks Conversations
Step 9 – Effective Ezine & Email Marketing
Step 10 – Craft An Irresistible Free Offer
Step 11 – Eliminate Writer's Block & Write Better, Stronger Headlines, Articles & Products.
Step 12 – Create Content For Making More Passive Income
These are the steps of The Content Rich Marketing System™ that I use in my own business and that I've developed after mentoring hundreds of solo entrepreneurs.
In addition to these 12 strategies, you will learn many other advanced techniques that I use to leapfrog ahead to attract more clients and establish more influence in my industry.
Does this really work?
Absolutely! The result of our work together is an approach that every business owner needs and can use, and with time and consistent implementation, works effectively and consistently to attract all the clients and customers that you need. I call my work with entrepreneurs: Content Marketing Design because it's really about designing a business that effortlessly pulls people in. (Read Client Success Stories)
What results can I expect?
You'll learn what content is currently working for you in your business and what isn't
Understanding of what is and what isn't working on your website/blog and how to improve it
Discovering possible content opportunities on your website
Learn what topics you should write and speak about in your niche
Learn what topics you should create products and programs around
Design a signature system that helps you create a transformation for your clients
How to write problem solving content based on that signature system
How create articles that attract new clients on a consistent basis
How to optimize those articles for maximum exposure in your marketplace
Audio and video marketing strategies to use for added exposure
How to build and set up a blog that shares your knowledge with the world
How to accurately optimize your blog for the search engines
How to create an easy to follow blogging content schedule
How to establish greater reader engagement
How to build landing and squeeze pages that capture daily new subscribers
How to build backlinks to your blog
Stay accountable to your content marketing goals and achieve them
Establish powerful social media profiles that help you establish more visibility
How to share your content in social media and get it shared, liked, and commented on
How to put your content sharing on social media autopilot
How to publish an ezine that gets read and builds "trust"
How to pick the right topic to use for your irresistible free offer (IFO)
How to set up the IFO on your site for maximum optins
How to get past writer's block and write more content in less time
How to set up your writing environment for stressless writing
Repurpose your content into streams of passive income
Set rates for your products and programs that people will pay
Make more money than you're making now, so that you can create a business and a life that you actually enjoy
How quickly can I expect to see these results?
Ethically, I cannot promise you a time period in which you should see specific results. Your results directly depend upon a variety of factors including where you are in your business when we begin working together AND more importantly how effectively you implement all the assignments that I will give you. With that being said, most of my clients see results in the form of more web traffic and more clients after working through several steps of my system.
Ready To Get Started?
Want to learn more about how content marketing can change your business? Sign up for more free information and goodies from me.
The following two tabs change content below.
I make a living writing, ePublishing, and marketing books and teaching others how to do the same. I have one mission: To turn you into the best writer that you can be while enjoying every minute of it!
Latest posts by Lisa Angelettie (see all)