Lisa Angelettie recommends The Best Spinner article spinner…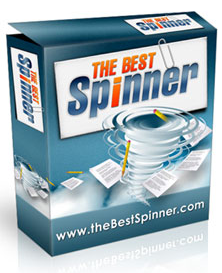 While my major focus is teaching people how to create unique content without the use of automated tools, there are times when I won't knock someone for using automation. If you are looking to create a boatload of content and you are short on time, perhaps you are preparing for a product launch, etc., then I recommend using an article spinner like  The Best Spinner to create tons of uniquely spun articles in a very short time.
The Best Spinner is highly recommended and absolutely used by many of today's top marketing experts (ex. Smart Passive Income). Especially when they are looking to gain some backlinking traction on the web.
I did purchase The Best Spinner for testing and was unable to get it to work on my intel Mac computer using Parallels & Windows 7, therefore I wouldn't recommend it for Mac users. There is no Mac version of the software. Nor is there an Adobe Air version. Therefore I had to try it on my HP computer, which did work, but truthfully ran a little too slow for my taste.
I just don't have the patience. But if you do, then out of all the article spinners on the market, this is probably the best one available. Great thing is that at the time of this writing you can access the trial for this software for only $7.00. So you can really get a good idea if this software would be a time saver for you when it comes to producing a consistent amount of unique content for your readers.
At this trial price point, I think it's worth giving a shot, and let me know what kind of results you see with it.
*This recommendation contains an affiliate link
The following two tabs change content below.
I make a living writing, ePublishing, and marketing books and teaching others how to do the same. I have one mission: To turn you into the best writer that you can be while enjoying every minute of it!
Latest posts by Lisa Angelettie (see all)