Effective Article Marketing Research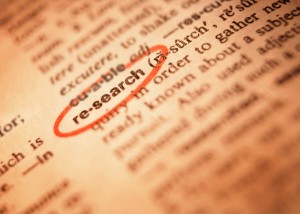 When you are designing content for people in your marketplace, there are topics that you are going to be able to write about with great ease, because that's your forte. You know your niche!
But then there will be other times when you know just "a little something" about a topic you want to write on, but need to do a little article marketing research to be completely accurate and informative for the reader.
So article marketing research doesn't have to be painful for you. In fact, you can conduct article marketing research quickly if you know how to approach it. No worries, this works in almost any niche…
1. Choose a target keyword or keyword phrase for your article
2. Conduct a Google search for that term
3. Research the top site for that term
4. Research the first social media site, hubpage, or squidoo page that comes up for that term (Don't just look for Twitter and Facebook, there are many other social media sites out there. You are going to have to click and learn:)
5. Search Wikipedia. With tighter rules on adding and editing content, content is quite accurate.
6. Conduct a Google "News" search for your phrase.
7. Conduct a Twitter search for your term or topic. See what questions people are asking. What statements they are making. Search features are directly in Twitter or you can third party tools such as Hootsuite.
8. Always have a go-to source in your niche .Who knows more than you? Who's been around a lot longer and maintained in your marketplace. Ask that person questions. Get to know that person. One day you may be in his or her place:)
9. Check the forums for Q&A on your topic.
10. Ask an expert a question on sites such as Ask.com. I get inquiries about writing and e-publishing all the time on this site.
Use these tips in your article marketing research and watch how quickly your articles fill up with text!
The following two tabs change content below.
I make a living writing, ePublishing, and marketing books and teaching others how to do the same. I have one mission: To turn you into the best writer that you can be while enjoying every minute of it!
Latest posts by Lisa Angelettie (see all)