I do not believe in using automation softwares or services for content creation, but I like to find shortcuts for everything else! Well here's a great shortcut from the article directory extraordinaire EzineArticles. Learn how to autotweet your latest ezine articles to your Twitter followers. Great news – it's free!
When you sign up for a free EzineArticles account, you get the great benefit of being able to add your social media profiles for added exposure to your articles. This is especially true or Twitter. In case you didn't know, not only will EzineArticles promote your latest published articles in their twitter stream (which at the time of this writing had almost 60,000 followers), but you can also have them autotweet (automatically tweet) the link to your expert author page to their Twitter followers as well. Here's how to set up in less than 10 seconds!
1. Go to EzineArticles admin
2. Go to last link: Social Media
3. Add or update your Twitter url
4. Authorize EA to tweet your expert author page link every 90, 60, 30, or 14 days. (You could also choose to leave this feature off, but why?)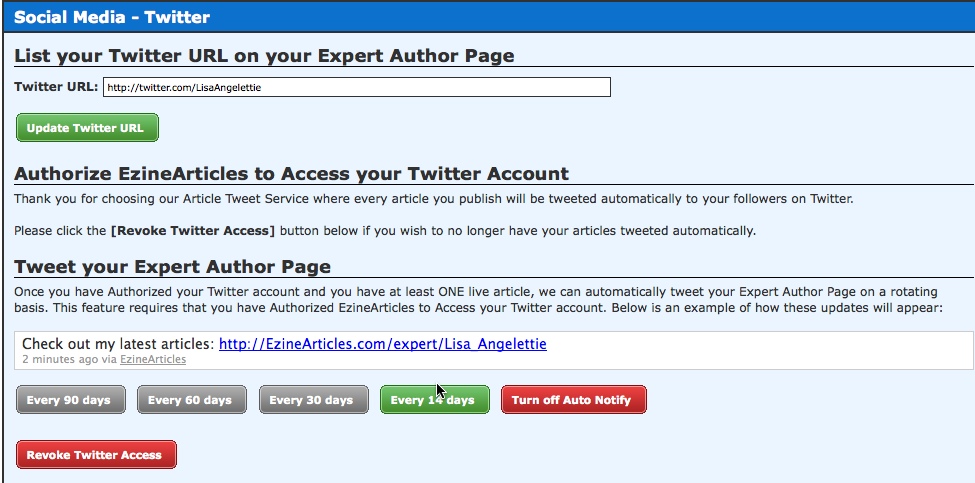 That's it. Set it and forget it. I have set up my author page to autotweet every 14 days and if you can't wait that long, you can always find my latest EzineArticles at http://ezinearticles.com/?expert=Lisa_Angelettie or visit me at Twitter: http://Twitter.com/LisaAngelettie 🙂 Happy autotweeting!
The following two tabs change content below.
I make a living writing, ePublishing, and marketing books and teaching others how to do the same. I have one mission: To turn you into the best writer that you can be while enjoying every minute of it!
Latest posts by Lisa Angelettie (see all)