How To Write Articles That Attract Clients (Even If You Stink As A Writer!)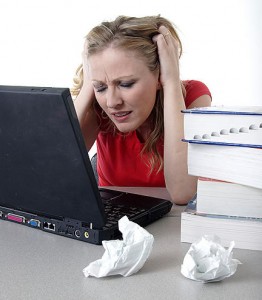 Imagine attracting all the clients that you need by simply writing articles! Sweet huh? Writing articles has assisted me in growing my business in tremendous ways and one of those ways is by helping me to attract clients, especially ones that I enjoy working with and this is why…
When I write an article, I make sure that I accomplish two things. One is that I am either answering a pressing question or explaining a concept for my ideal client and the other is that I am writing in or  using my own unique voice and perspective to do so.
Including both of these elements in the articles I write have been crucial to my success as an entrepreneur.
So how do you do this if writing is not something you think that you do well?
It's pretty simple actually. Here are my tips for writing articles that your ideal potential clients will devour while using your own authentic, brilliant voice to do so.
1. Get Over Yourself
First you have to get over that term paper you tried to write a million  years ago. Just because you didn't do so great on papers or maybe you don't like writing letters – has nothing to do with writing articles for your business. Let all of that baggage go and put it behind you. Who you are today is an entrepreneur looking to help and/or empower others – and that begins by getting your message out there in a big way.
2. Answer A Question
Most of your clients have questions that they don't have the answers to which is why they are turning to you. How do I get over a broken heart? How to I close the sale? How do I find my next speaking engagement? These are the types of questions that BEG for an article to be written to answer them. The key is to make sure that you are answering a "pressing" question or concern of your potential clients.
The great thing about answering a question in an article is that you don't have to wonder what you're going to write about – you already know the answers AND it doesn't have to be perfect. People just want quick help, they don't necessarily need you do deliver it as if it's a dissertation. Don't worry about how "smart" you sound. That's not important. What's important is that you actually know what you're talking about and give a good, solid answer in your article.
Quickie Template
Introductory paragraph about the question you are answering.
Write out the question. (The best questions are ones from asked you by present clients.)
Write 2-3 paragraphs answering the question.
End the article with an outro paragraph summarizing the Q&A.
3. Write In An Authentic Voice
A lot of my friends and family have told me that I have very strong opinions and tend to think emotional things through in an analytical way. I'm not the funniest gal, but that's okay, that's me. That's how I talk on the phone with girlfriends. That's how I talk to my children. And that is how I write my articles.
This is also called my "writer's voice" and you have one too. The key is for you to always use it, because when you do you will naturally attract clients to you that already like your style. Another great thing is that your writer's voice is totally unique to you and it will establish your individuality in the marketplace.
When you let go of the misconception that you can't write, and then begin to write articles that include these two essential elements, you will begin a continuous flow of your ideal clients to your site and your offers. What a great way to make a living:)
The following two tabs change content below.
I make a living writing, ePublishing, and marketing books and teaching others how to do the same. I have one mission: To turn you into the best writer that you can be while enjoying every minute of it!
Latest posts by Lisa Angelettie (see all)