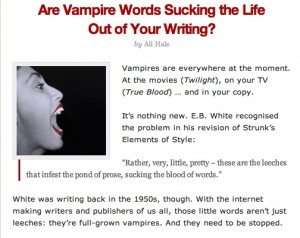 Writing Tips
Did I ever tell you that I LOVE vampires, way before this whole Twilight & True Blood movement. I just always have since my cousins in South Philadelphia introduced my sheltered 10-year-old self to the movie "Blacula". I was hooked:)
Well in keeping with the popularity of vampires lately, there's a great article I found on Copyblogger all about using "vampire words" that suck the life out of your writing.
Vampire words a.k.a. qualifiers are words that we tend to use when we are a little afraid to make a bold statement about something. We use them in everyday language, and we definitely use them in our writing. I have been guilty of this myself too. For instance, you can find several articles of mine using the vampire word: fairly. Ugh!
Want to read the whole vampire word list and how to avoid making this life-sucking mistake in your writing? Read the entire post here: http://www.copyblogger.com/vampire-words/
The following two tabs change content below.
I make a living writing, ePublishing, and marketing books and teaching others how to do the same. I have one mission: To turn you into the best writer that you can be while enjoying every minute of it!
Latest posts by Lisa Angelettie (see all)