Want to change your Thesis error page? Well, if you write and publish articles to your own WordPress blog (which I highly recommend), then I'm sure you have seen the ugly little error 404 page on other blogs and no doubt visitors have seen them on yours as well. Well thanks to Thesis, we can easily change these pages to something much more useful for people who end up on the wrong page on your site.
This is the typical error page:
You 404'd it. Gnarly, dude.

Punt.
Surfin' ain't easy, and right now, you're lost at sea. But don't worry; simply pick
an option from the list below, and you'll be back out riding the waves of the Internet in no time.
Hit the "back" button on your browser. It's perfect for situations like this!
Head on over to the home page.
This is how you can change your error pages easily on Thesis:
1.
Download the Thesis Open Hook plugin.
It's a great plugin. I highly recommend it for all owners of this great template. And it will help you make changes to all of the pages and sections of your blog easily.
2. Click on
Thesis OpenHook
link under the
Appearance section
on left hand side of your admin.
3. That will open your  options page. In the bottom right hand corner, you should see a drop-down "select a hook" box.

4. Select and scroll down to the
Page Templates, Archives and More
heading. Under that heading you will find an option for
thesis_hook_404_title
&
thesis_hook_404_content
.
5. Fill in your new title for the page and make sure you check the box to remove the default 404 title box. Click the blue "Little Ass Save Button" and you're done.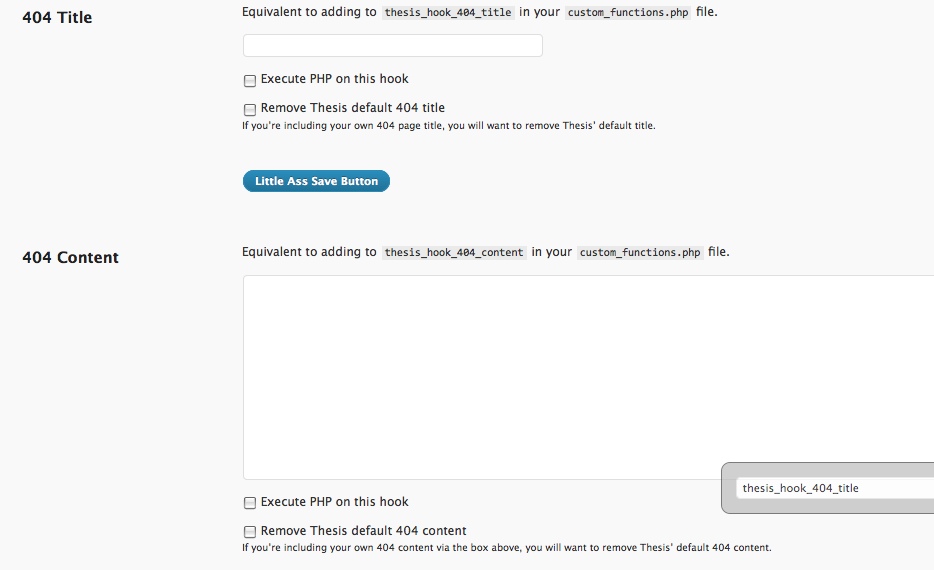 6. Same thing for content. Fill in your new content and make sure you check the Remove default 404 content box. Click the blue "Little Ass Save Button" and you're done.
7.
What should you put on your new 404 page?
Well, that's a whole different article:) but I recommend helping your visitor get to the content they were looking for OR apologizing deeply and giving them a "gift" for the inconvenience.
Here is an example
.
Have any questions? List 'em in the comments section.
Related Websites
The following two tabs change content below.
I make a living writing, ePublishing, and marketing books and teaching others how to do the same. I have one mission: To turn you into the best writer that you can be while enjoying every minute of it!
Latest posts by Lisa Angelettie (see all)