My Social Media Business Card
I thought this was a really cool tool for sharing the many social media profiles you probably have with your tribe. Plus, another added benefit is that you will create a backlink to your website when you create your profile on this site. After creating my business card and sharing it via Twitter, I received over 70 profile views within an hour. Not bad for five minutes work!
Visit twtbizcard.com, complete your profile, then share your social media business card link with the world. Here's mine: http://twtbizcard.com/LisaAngelettie. The ad supported version is free (that's what I use) and you can also upgrade to eliminate ads.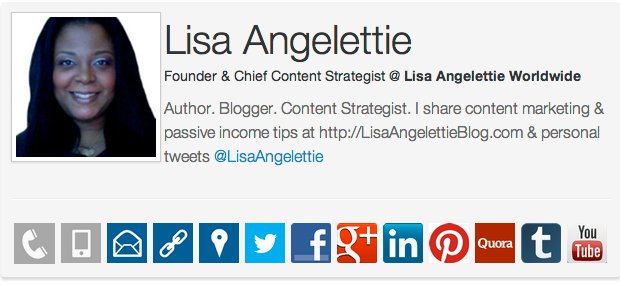 The following two tabs change content below.
I make a living writing, ePublishing, and marketing books and teaching others how to do the same. I have one mission: To turn you into the best writer that you can be while enjoying every minute of it!
Latest posts by Lisa Angelettie (see all)