ePublishing
Before there were Kindles and iPads, savvy entrepreneurs were already ePublishing. We were writing books and publishing them as PDF files and people were reading them on their desktops or laptops. Fast forward to today and now we have all sorts of options for publishing and reading digitally published books. This has created a huge shift in the publishing world and has made it much easier for writers to get their work out into the world. Here's a screenshot from my detailed discussion of the commercial ebook market in my ebook publishing guide (Make An Ebook Tonight).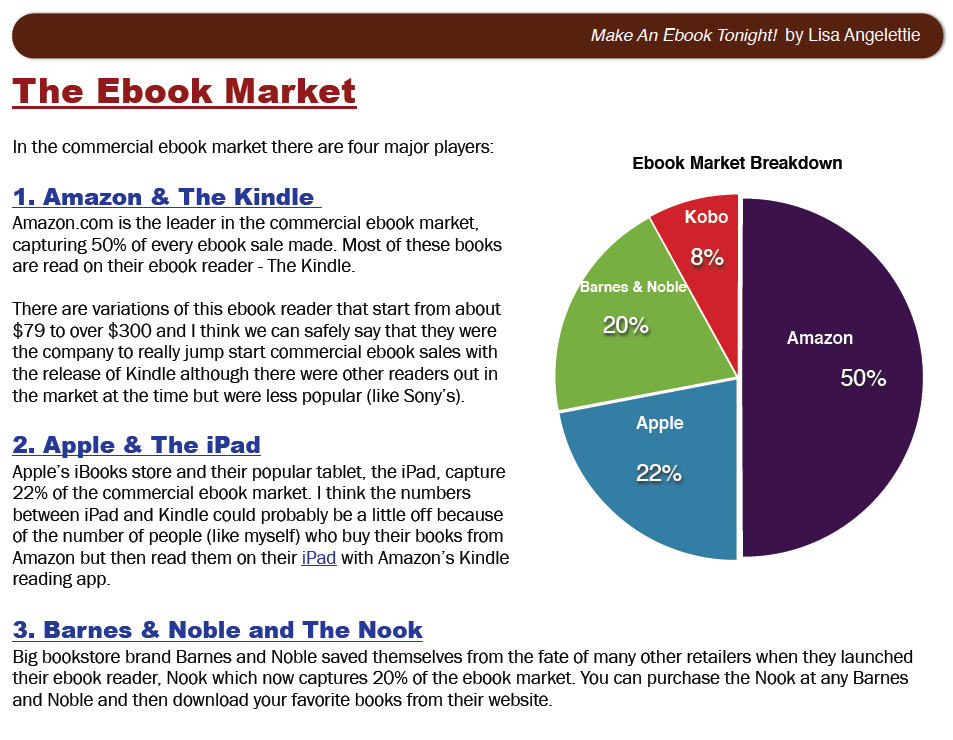 Additional ePublishing Articles
Promotional Tool For Kindle Authors: Kindle Countdown Deals
The #1 Mistake Self Published Amazon Authors Make
How Ebook Buyers Discover New Books
How To Update Your Amazon Profile Page
(More resources to come!)
Need More Help?
Do you need more one-on-one help with your ePublishing project? I work with authors and entrepreneurs on a regular basis helping them publish content and ebooks for more visibility and profits. If you'd like a little more hand holding, feel free to schedule a private consultation with me. Availability is on a first come, first serve, limited basis.
The following two tabs change content below.
I make a living writing, ePublishing, and marketing books and teaching others how to do the same. I have one mission: To turn you into the best writer that you can be while enjoying every minute of it!
Latest posts by Lisa Angelettie (see all)