New writers often ask me about for proofreading and copyediting referrals and when I give them some names and a quote, they run for the hills. Often submitting their unpolished, unedited work to Amazon and the other marketplaces and getting horrible reviews in return. Reviews about editing are some of the worst negative reviews a writer can receive because it speaks to the quality of the book, not the content. People will interpret mistakes in the book content as a direct reflection of the writer's talent and ability–which we know is not always the case.
But I totally get it.
Many new writers simply do not have the funds to hire an editor for $500 bucks. Not when you haven't made one dime yet at this whole new publishing adventure:) So here are two suggestions: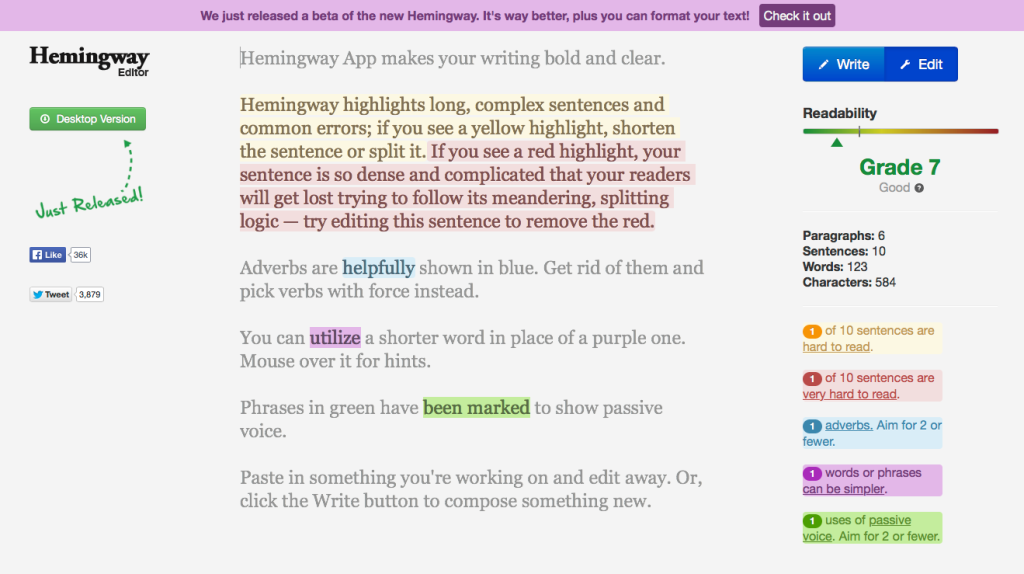 This is a really cool editing app. After you've spellchecked your work in your own word processing software, you can then use this web-based app and type or copy and paste your text right on the page, then edit it for readability, length, sentence structure, passive/active voice, adverb use, etc. Best of all it's free!
If you want to use it offline, there is a desktop version for both PCs and MACs that is $6.99 USD. Totally worth the investment if you ask me.
Believe or not, you can find a really decent editor on Fiverr. Obviously they are not going to edit an entire book for $5, but you may get 1000 words for that price and then you can just add on gigs to get your entire book done. Still a totally affordable way to have your book edited.
The easiest way to find the right editor for you is to go to the proofreading/editing category. Click on the "high rating" tab and take a look at some of those editors. Pay attention to how many good reviews they have and exactly what they promise per gig. Make sure the gig is NOT for beta reading but for PROOFREADING and/or EDITING.
Want to hire me? Here's my proofreading gig on Fiverr
The following two tabs change content below.
I make a living writing, ePublishing, and marketing books and teaching others how to do the same. I have one mission: To turn you into the best writer that you can be while enjoying every minute of it!
Latest posts by Lisa Angelettie (see all)