Apex Award 2011 Winner: Lisa Angelettie!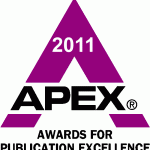 In the middle of writing, promoting, living my life, blah blah blah — I forgot to toot my own horn! I recently (last month:) won an award for Web Writing from the annual Apex Awards for Publication Excellence.
Go Lisa! Go Lisa!
Okay that's enough:) But just a note about awards…
Winning awards adds a measure of credibility to you as a mentor, coach, consultant, etc. and to your business. So what's the secret to winning one? You have to enter your work!
Don't be afraid, shy, or self conscious about sharing your SUPER POWERS with the world! By not tooting your own horn, you are keeping someone out there from knowing all about and all that you can do for them.
So look to your niche and do a Google search on what awards are presented. Example Search: "raw food + awards"
Read the guidelines and submit! Good luck and feel free to announce your win back over here when you get a chance:) We'd love to cheer for you.
The following two tabs change content below.
I make a living writing, ePublishing, and marketing books and teaching others how to do the same. I have one mission: To turn you into the best writer that you can be while enjoying every minute of it!
Latest posts by Lisa Angelettie (see all)