Not so long ago, I noticed that I use a lot of article marketing terms in my articles, and while I do attract intermediate and advance article marketing clients, I get a tremendous amount of article marketing beginners as well. So I thought it would be a good idea to get everyone on the same page, and make sure you know what I'm referring to when I use these terms.
Article Marketing
The online marketing strategy for using articles to promote a product, service, or website.
Article Marketing Directory
Websites where you can submit articles for more exposure, traffic, syndication, republishing, etc.
Search Engines
These are sites that people use to search for internet for information. Examples include: Google, Yahoo, Bing, etc.
Search Engine Optimizaton (SEO)
This is a technique used for making your content, in this instance our articles, more favorable and appealing to the search engines. This is what will help improve your ranking the search engines.
Search Engine Ranking
This is the position or spot your website or individual articles holds when someone searches for your keyword terms. For example, at the time of this writing when you search for the keywords "article marketing strategies" in Google, my site ranks #1.
Search Terms
These are the words that person types into a search box to find information. This is important to marketers like us, because we want to optimize our articles for the search terms that people typically use to find our content.
Link
A connection from one web page to another. This connection is made by using a url address. For example, http://Articology.com is a link to my article marketing course for beginners. That url address will connect you from this page to that page. Links are important to us because when you write and publish articles, each article you create will have it's own individual link. A connection created for the reader to find your content.
URL
A url is a web address that you will see or type in the top of your web browser (Internet Explorer, Safari, etc.) to go to a website. The letters stand for Uniform Resource Locator. When you publish an article, it will have a unique url, such as this one: http://lisaangelettieblog.com/top-21-wordpress-plugins-for-article-marketing/
Backlink
This is an outside or incoming link that is made from an external website to your content. Backlinks are important because search engines like Google base your site's importance on the number of backlinks to your content. Also, when you publish an article to an article directory or 3rd party blog or website, and you have a link to your site in the resource box,  you are creating a backlink to your site from that directory or website.
Keyword
Keywords help identify what a website (or articles) is about to the search engines. What keywords you choose are quite important because they help Google and the other search engines determine where to place your content in the search engine rankings. For example, if your article is about Christmas Trees, then you should optimize your article (in the title and the body) for the keyword term Christmas Trees.
Long Tail Keywords
These are keyword terms that are typically 4 or more words. These keywords are usually easier to rank for in the search engines because there is less competition for them.
Traffic
This is the number of visitors to your article or website.
Qualified Traffic
This is the term I typically use in my articles to describe traffic that is looking specifically for your content. This is the best kind of traffic because they are visitors that are already interested in your topic, in other words "warm prospects".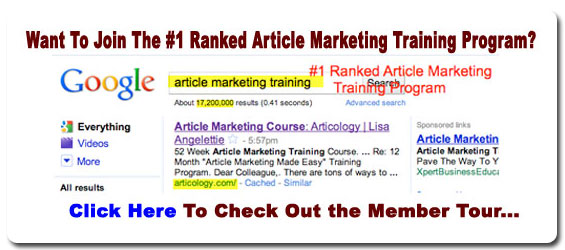 The following two tabs change content below.
I make a living writing, ePublishing, and marketing books and teaching others how to do the same. I have one mission: To turn you into the best writer that you can be while enjoying every minute of it!
Latest posts by Lisa Angelettie (see all)