If you started online one to several years ago, you probably built your first site with a typical "newbie" web hosting plan or web editor, which means that you probably have a static html website with many pages; especially if you were "smart" and have written many articles for your site. I did it many years ago with my relationship advice site and found myself years later with a page-heavy html site. Yikes!
I knew for over a year that I wanted to convert my html site to a content management site, but wasn't sure which system and how. Then WordPress really began to take off on the web, and I knew quickly that I needed to convert my html site to wordpress. The main reason why I chose WordPress, and why most people do, is that your site can attain better organic SEO results writing content using this format than with regular html.
So how do you do it?
Well, you could do it the way I did it, and hire someone to convert the site for you by primarily changing your .htaccess file; but they will charge you an hourly rate and it's NOT cheap. Plus I still had to do stuff afterwards, because I had to make sure that there were no broken links or 404 errors, after the site was converted. I'm still checking on broken links!
Another way to go is to use this step by step tutorial I ran across on cybercoded. While I haven't used it myself, it seems like a much better alternative to what I did.
Now based on the steps involved, it seems that there really is no way to get around the labor intensive portion of converting your site, but this tutorial makes it seem a lot less painful then it was for me.
Let me know how it works for you and enjoy!
==> http://www.cybercoded.net/convert-static-html-site-to-wordpress-easily/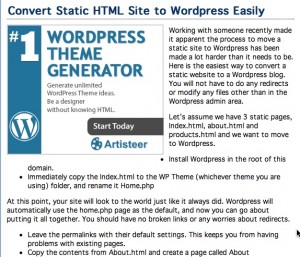 The following two tabs change content below.
I make a living writing, ePublishing, and marketing books and teaching others how to do the same. I have one mission: To turn you into the best writer that you can be while enjoying every minute of it!
Latest posts by Lisa Angelettie (see all)