How To Set Up Your Own List Building Page In WordPress
Want to set up a page to capture new visitors to your list from your WordPress blog? Great idea! This is why and how you do it…
Why The List Is Crucial To The Success Of Your Business
You've heard it said many times I'm sure. The money is in the list — and that's because it is true. When you are marketing your business online, your #1 goal should be to get the prospect on your list.
That's why when I discuss writing the perfect resource box, I always mention that it's best to create a call to action that gets the reader onto your list first, NOT to buy from you right away. Why?
Well, statistically most prospects will not buy upon their first interaction with you. They will need at least 7 exposures to you and your information. So how do you ensure that the person reads more of your articles and browses around on your site? You get them on your list and build a relationship with them through content (articles, ezines, short reports).
Even on social media platforms such as Twitter and Facebook, ultimately you really want the people that are interested in you to get on your list. A list that you can send emails to about your upcoming launches, about what you're working on, about your new puppies! Whatever. These are the people that you will end up buying from you, sign up as a client, and better yet — will do it repeatedly.
So of course the next question many people have is – how do you get people on the list? Very valid question and there's a pretty easy solution…
How To Set Up List Building Page In WordPress
1. If you are trying to create an email list for your business in Outlook or Apple Mail – stop! You must build a business based on potential growth. You need to use a professional autoresponder/newsletter service such as Aweber, Constant Contact, Mail Chimp, etc. These services can easily help you create and build a highly responsive list.
2. Once you sign up for one of these services, you will create your first list. I'll call mine "Anglettielist". Once I create this List – I will create a web form or opt-in form for people to use when they want to sign up for Angelettielist. This form will go on my WordPress blog.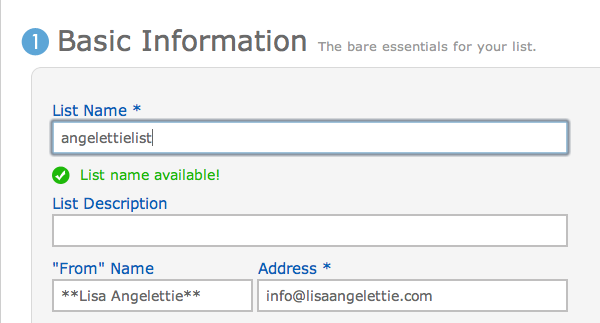 I'll make a simple form asking only for the person's email address and name. My autoresponder company will walk me through this process. It's quite easy. When I'm finished making the opt-in box, there will be html code and/or javascript code that I will need to copy and paste into my blog.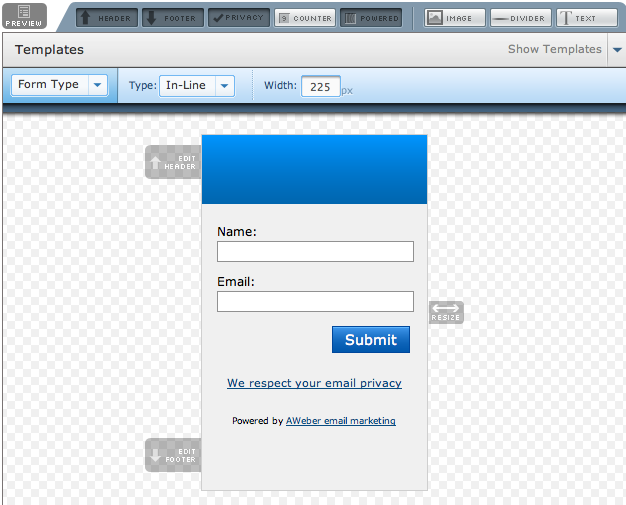 3. Now I will create a PAGE (not a post) in wordpress. This page will serve as the landing page for the link that I will place in my article's resource box. For example one of my landing pages is: http://ArticleMarketingSuccessKit.com. This is actually a page on my site which serves as a landing page to my main list. I use this url for most of my article marketing and for guest posts as well. To do the same thing, all you need to do is to secure a simple domain name you'd like to use for your list building and forward it to the actual url of your new WordPress page.
4. Once you create your list building page, now you need to add the code to it to make sure that your new, cute opt-in box shows up. So copy and paste the code you created from your autoresponder company and paste it in your page using the html editor (not the visual editor).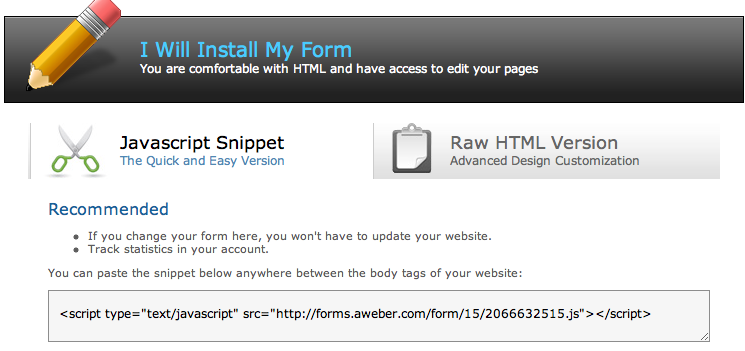 5. Of course it's a great idea to add a headline and a bit of copy about joining your list. You need to approach list building just as you would close any other sale. So I actually stick a headline and copy on my list building pages ABOVE the web form code. Again, you're doing all this in the html editor of WordPress – not the visual editor. Then SAVE.
6. Now it's time to take a look. You will need to PREVIEW your page in order to see it properly. The visual editor may not show your opt-in box correctly or at all depending on what code you use, etc. Here's the time to center things, add a few more benefits to your copy, or go back and tweak your opt-in box if you don't like how it looks on your site. BUT don't worry quite yet about perfecting your page, it's more important to get it up and capturing names. Over a course of a few days you will think of tweaks to make and you can do them at that time.
7. Drive traffic to your list building page. Now that you've created it, you've got to tell people that it's there. Drive traffic from your home page to the page. Add something at the end of every post that drives traffic to your page. Add your page's domain friendly url to your email signatures, social media profiles, and in the resource box of all the articles you publish.
Do you have a good example of a list building page that you created on your WordPress blog? Here's your chance to share it with the world (okay with my little corner of the world:). I don't typically permit links in the body of comments on my site — but this time I'll make an exception:) Please include the full url address please (http://xxxxx)
The following two tabs change content below.
I make a living writing, ePublishing, and marketing books and teaching others how to do the same. I have one mission: To turn you into the best writer that you can be while enjoying every minute of it!
Latest posts by Lisa Angelettie (see all)