If you need to update say your copyright information in the very bottom of your footer, on your Thesis blog, here's how to do it in about 60 seconds!
* I use Thesis version 1.6
1. Go To Appearance section found on the left hand column of your dashboard.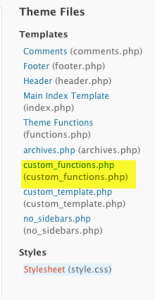 2. Click on the Editor option
3. Look to the right hand column under Templates.
4. Click on custom_functions.php template
5. This will load the theme for editing
6. Scroll down to the bottom of that template
7. You should find your current copyright information somewhere after the add action footer hook or function my footer hook. The one for this blog looks something like this:
add_action('thesis_hook_footer', 'custom_footer', '1');
function my_footer() {
echo '<p>Copyright &copy; 2010 Lisa Angelettie &mdash; Powered by Pepsi, Chips & Grow Your Self Inc.</p>';
}
add_action('thesis_hook_footer', 'my_footer');
remove_action('thesis_hook_footer', 'thesis_attribution');