New Google Keyword Tool – Overview
As much as many entrepreneurs complain about the all powerful Google, you have to admit, they are constantly revamping and improving the fabulous free tools that they offer webmasters. Well, they've done it again because the same goes for the new and improved Google Adwords Keyword Tool.
First, I want to explain that you do not need to purchase Google Adwords nor do you even need to set up an account in order to use the new Google Keyword Tool. It is completely free to use.
Second, I want to assure you that if you've ever used any of the older Google keyword search tools that this is not a drastic departure from that model but rather a pleasant merger of the original keyword tool and the search-based keyword tool. *Please note that they are phasing out these tools older and this will be the keyword search tool of choice.
Now as a side to the first point I made – if you do have a Adwords account you will have access to a few more features including the ability to get more results and more details on those keyword results if you are signed in as an Adwords user. Registration is free – so no worries there.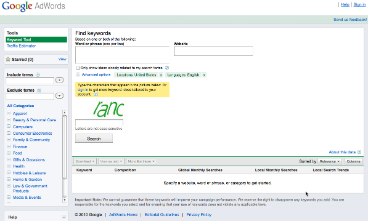 New Google Keyword Tool – What's New In Search?
1. You can search for keywords using a combination of keywords you select, from a website, or from categories. The old tool allowed you to search using a website and keywords, but the website option wasn't very prominent and I don't recall there being any choice of getting to generate keywords from categories.
2. You have more flexibility in how you can download the keywords you find. You can download only keywords that you select, the entire list, or keywords based on selective queries.
3. You can see stats for mobile search. I love that!
4. Use the filter options to define both the Max CPC and Daily Budget for traffic estimates,  estimated statistics (impressions, average CPCs, etc.), search volume (Global Monthly Searches, etc.), and competition types.
5. Compare stats for your keywords with one or more match types at the same time.
New Google Keyword Tool – How To Use
1. When you first open the tool which you can find at: https://adwords.google.com/select/KeywordToolExternal
2. You will see two text boxes for inputing keywords or a website url. If you want to see what kinds of keywords a site similar to yours is using -you can use the website feature. If you know your major keyword or something close to it and want to discover dozens or even hundreds of more keywords related to your term, then you should use the keyword box. That's the one I use most often.
3. For this article, I researched my favorite type of cake "red velvet cake" and was given 100 keyword results. If I had logged in with my adwords account (which is free to set up), then I could have gotten many more results. Hundreds more. But these the top 100 results are a great place to start!
4. When you conduct a search you also have the option of using "advanced features" such as getting keyword results based on country, language, adult-content, and my favorite – mobile search.
5. When Google returns their search results, they segment them into several different columns. First is "competition". This result shows if there is low, medium or high Adwords competition for your keyword. This is good to know even if you don't use Adwords, because it gives you a sense of how popular your keyword is. High popularity means that you are probably focusing on a keyword that converts well.
6. The next column shows the global monthly search volume for that keyword. We're looking for about 100 searches a day although I may compromise on that number depending on how small but profitable the niche.
7. The next column shows the local monthly search volume for the keyword, which is the country that you picked for your search results. So in my case, the red velvet cake results were U.S. based. I could also tell by comparing the global to local results that most of the searches done for red velvet cake keywords were done primarily in the United States.
8. The final column shows you the search trends for that keyword, which gives you an idea of how popular research on that keyword is per month. Keep in mind that this column will certainly fluctuate depending on your niche. Red velvet cake results were much higher in December than in any other month.
Conclusion
While I do have and use powerful keyword tools like Market Samurai, I still like to use Google's Keyword tool to  do quick keyword research which then gives me a large list of words that I will dig deeper into with my paid tools. Frankly it moves quicker then any of the computer software keyword tools I own and I have always seen great results with article which I have written around keywords which I have researched and used via this tool.
Do your research. Pinpoint a hot 25, 25 or 50 keywords you love and go start writing articles for them.
*Special thanks to reader Gwen Harris for this article idea
The following two tabs change content below.
I make a living writing, ePublishing, and marketing books and teaching others how to do the same. I have one mission: To turn you into the best writer that you can be while enjoying every minute of it!
Latest posts by Lisa Angelettie (see all)