Mobile Website Statistics – Via Google Analytics
I've mentioned this a little bit on other posts, but it's time that all my solopreneur buddies start really thinking about how people visit your site. The reality is that most people are on their cellular phones – most of the day. A lot of people do not have access to a computer all day or may not be able to do "personal" stuff on their work computer. So, their cell phone is their direct connect to there other passions and hobbies — hopefully you are one of them:)
I thought I'd take a look at my Mobile Statistics so far for the first half of the month of March 2011. So far I've received 361 visits to my site via a mobile device (about 4% of my traffic). Not a tremendous amount of folks, but enough for me to pay attention. I especially wanted to learn more about the devices that people were using to visit my site on.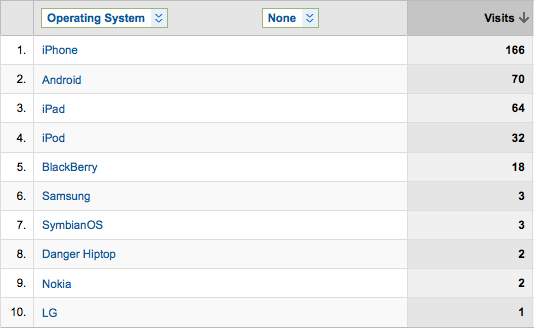 It's obvious that iPhone is clearly the winner so far and I would assume that it may have a lot to do with the fact that iPhone has a large share of the "smartphone" market as well as the fact that my site is optimized well for the iPhone platform. Android comes in second, probably again due to it's position in the marketplace. It is second to Apple®.
My FAVORITE gadget of the year, the iPad comes in a close third. Honestly, I think my site (most sites) look stunning on iPads and are totally surfable and usable. Next comes iPod which sort of surprised me but that's because I'm thinking of my 8 year old's Nano, when probably these stats are from iPod Touches. Pretty much like an iPhone — just no phone service.
Fifth place goes to BlackBerry and I think I know why. Sorry to all you "Crackberry" loyalists, but surfing the web is not pleasurable on the BlackBerry. Even my husband has seen the light and has finally given up his BlackBerry and moved to an iPhone. BUT having said that – it seems that some people were fine with cruising my site on their Blackberrys and for that I am grateful.
While these visits are only a small percentage of my current traffic, I think it is a statistic that I will be paying much more closer attention to and I hope you will too. You can easily keep an eye on your Mobile Statistics using the free Google Analytics Service.
The following two tabs change content below.
I make a living writing, ePublishing, and marketing books and teaching others how to do the same. I have one mission: To turn you into the best writer that you can be while enjoying every minute of it!
Latest posts by Lisa Angelettie (see all)