Twitter Over Capacity – UGH!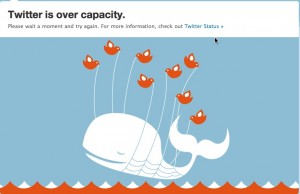 I have nothing prophetic to write today. Just wanted to say that sometimes you have to know when it's time to take a break. I wanted to let my peeps know that I just published an article on my site, but couldn't, because once again Twitter was over capacity. Twitter was damn busy!
That must mean that something important is going on right? Or it could simply mean that it's time to go play Twister with my kids:)
The following two tabs change content below.
I make a living writing, ePublishing, and marketing books and teaching others how to do the same. I have one mission: To turn you into the best writer that you can be while enjoying every minute of it!
Latest posts by Lisa Angelettie (see all)