What To Include In A Testimonial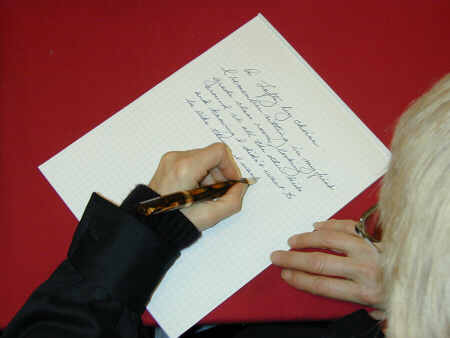 Recently a few of my members had the opportunity to receive a free copy of my soon-to-be-released program Easy Article Submission Secrets. All I asked in return was if they found value in it, to give me a testimonial about it.
As many of you may already know, sometimes getting a testimonial from even the most satisfied customer/client is like pulling teeth! Many entrepreneurs simply freeze up and don't know how to say what they want to say, or sometimes they have no idea what they really should say. So you know what happens? Nothing.
Now getting nothing or not receiving any sort of feedback on my products, is definitely not what I want happening in my business. I want the social proof that testimonials offer for potential sales AND it's not great for the person trying to write the testimonial as well, because if they don't get it done, they miss out on an opportunity for free publicity. And you should never pass up the opportunity for free exposure.
So I thought it was a good idea, right here and right now, to explain to you why you should write testimonials for other entrepreneurs and what to include in those testimonials.
Why Should You Write Testimonials?
So what's in it for you other than great karma? Well, you should write testimonials because of several factors. First, testimonials can bring you backlink love and this works if the entrepreneur's sales page allows live links to be placed under their testimonials. Now while a whole lot of marketers don't do this, there are those that still do and you will benefit from their search engine ranking.
Second, testimonials bring you traffic. I track this every month and sure enough, testimonials I have written for products that I have found very useful in my business, send me traffic on a monthly basis. Does the traffic compare to say my traffic from the search engines? No. But it's free traffic that may not have found me any other way – so I'll take it! This works whether or not your links are live or not. If a person is interested in your business, they will copy and paste that url, and go visit your site.
Third, a potential client or customer will associate you with the site they saw your testimonial on. Or in other words – birds of a feather flock together. This is great for you if the product is good, so remember to write testimonials for products and services that you truly find valuable. Something that you would refer to people even if there was nothing in it for you.
What To Include In Your Testimonial
If you're going to write a testimonial, you might as well do it right, and be featured prominently on a sales page or in the front copy of someone's book. So in order to get your testimonial selected quickly, you need to write a BENEFIT RICH testimonial. Not just a blurb about how cool the product was! You need to include a bit more. For example:
1. Use numbers. "Articology improved my writing production by 32% per week. This was just the training I needed to gain forward momentum." or "I received over 27 new subscribers this week after publishing only 3 of my blog articles. Thanks Lisa!"
2. Stress benefits. "My list became more interactive with me after I learned how to publish my own ezine from Lisa."
Also, I have been contacted before by people who have read my testimonials for other products. That's right. People actually do verify the testimonials that you have on your site/blog. So make sure to include all your information for your testimonial. Several of those initial contacts ended up working with me in some capacity. This is what you should include:
1. Your Full Name
2. Your Business Name
3, Your URL (Very important! Use only one though, and if you don't have one, use your business based email address – no free ones.)
4. Your City, State, Country
5. A headshot or lifestyle shot of you. (Don't worry about size. The site owner will crop the image for you.)
Testimonial Bonus Tip – To track your testimonial traffic, you can assign a specific url for testimonials. For instance, I often sign my testimonials with ArticleMarketingQueen.com. When I get traffic from that specific url, I know it's because someone saw it on a testimonial, which gives me a better idea of how many people have found me through a particular site.
Testimonial Bonus Tip 2 – To get your testimonial guaranteed visibility, send the product owner a video testimonial. These are very easy to do and business owners love 'em!
Any thoughts on writing or gathering testimonials? Leave 'em in the comment section below and let's get a conversation going…
The following two tabs change content below.
I make a living writing, ePublishing, and marketing books and teaching others how to do the same. I have one mission: To turn you into the best writer that you can be while enjoying every minute of it!
Latest posts by Lisa Angelettie (see all)