All Blog Traffic Is Not Created Equal.
People that know me, know that while writing is my first passion, analyzing stats is my second! Seriously, it's almost as bad as my love for cheddar/sour cream potato chips:) But there's something to be said for my attention to detail – something that I'd like for you to take a look at as well. The level of quality of your blog traffic. So here's what we are going to do today. This will take 5 minutes tops and be well worth it.
Step 1 – Log into your Google Analytics account (or other stats tracking account)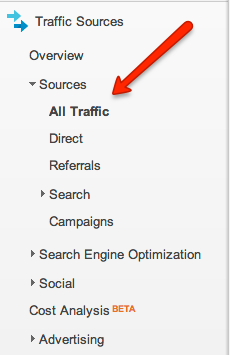 Step 2 – Click on Traffic Sources
Step 3 – Click on All Traffic
Step 4 – Take a look at your top 10 sources of traffic
This is what we're going to be taking a look at:
1. How Many Pages Your Visitors Look At When They Visit Your Site (The more page views the better)
I'm sure your content is fantastic, but the true measure of whether or not you are engaging your readers is by the number of pages visitors are viewing when they come to your blog. The more they read, the more you can assume that they are getting something from reading it.
Trust me, this is no easy feat. Remember that this is an "average" for your page views. So if you have an average of more than 2 pages viewed per visit on your blog you're on the right track.
2. The Average Time Visitors Spend On Your Site (The more time spent the better)
I really like this statistic because of how I personally use the web. When I visit some of my favorite sites, I'm probably going to read the latest article there and then keep it open as I apply whatever I'm learning. That's one way a visitor may spend more time or your site.
Or another way is linked back to the first stat we looked at – page views. Obviously the more pages a person views on your site, the longer they stay on your site, which is our goal as bloggers. The longer a visitor stays, the more they learn from you, the more the begin to trust you and later invest in you.
3. Your Bounce Rate (The lower your number the better)
Your bounce rate tells you the percentage of visitors who enter your blog and "bounce" (leave your site) rather than continue viewing other pages. You want a low number here and this was a stat that I had a lot of trouble with for a good while because when I first started this particular site, my content was not tightly focused enough. If you have a high bounce rate it means that people are visiting your site, not really seeing what they need, and leaving right away.
In fact, I'd say that the number one reason why people may have a high bounce rate is that their content is not meeting the needs of the visitor. There is a mismatch. For instance, if I wrote an article on this blog about cheddar/sour cream potato chips and I get Google traffic that finds me through the phrase "sour cream potato chips" – what do you think will happen? People will visit the article, see that this website is nothing about potato chips or chip coupons and click away – increasing my bounce rate for that article and ultimately for my site. While there is no rule for a good vs bad bounce rate, I like to follow a general guideline. Over 50% is bad. Between 25-50% is average. Under 25% is good.
4. What Should I Do With These Statistics Now That I've Seen Them?
Looking at your stats, we're going to take a look at the bounce rate, number of pages viewed, time spent on those pages and make an educated assessment about the overall quality of the content your site.
Look At The Bounce Rate First
Your bounce rate stats in this section we're looking at are divided by traffic source (example: Google, Bing, Direct, Yahoo, Facebook, etc.). If all of your bounce rates from these sources are over 50%, I'd say you need to seriously evaluate what you're writing and who you're targeting it to.
Look At Time Spent On Your Site Next
This is where things get really interesting. This is where you can evaluate what traffic source is sending you visitors interested in your content. For example, when I take a look at my stats (and you can go even deeper than past the top 10) I notice that Facebook visitors spend way more time on my website hands down. This is an interesting stat because it tells me that the people who click on my links over on Facebook are highly qualified visitors who are very interested in what I have to say. That also means that I need to spend a little more energy over on Facebook. What do your stats tell you?
Now Look At Pages Viewed
Things may overlap with time spent in this area but you also may discover a few new things as well. As I predicted, Facebook had a high number of pages viewed which accounts for time spent on my site, but I noticed that there were some other sites that had a high number of pages viewed as well. All the sites that I guest blogged at for the month, such as my post on Problogger, had a very high number of pages viewed. So did some of my tried and true sites like EzineArticles and Quora. It's nice to know that some of the old content rich sites still deliver qualified traffic right?
Now that you've taken a look into your stats, how are you feeling about the quality of person visiting your site? Tell us a little about your statistics or any new discoveries you've made by looking at your stats.