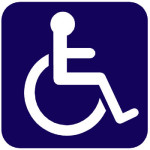 I take for granted that I can wake up, sit in my office chair, and write/type all day long if I want. No restrictions. Nothing is hindering me. I'm physically capable of doing it, but there are many people who have a physical disability that restricts their ability to write with ease on a daily basis. For example, I have a friend who has multiple sclerosis and no matter how many times she tells me, it doesn't totally seem to register to me that some days she just can't get a lot of writing done in her business because sitting at a computer for long periods of time is just too physically painful.
Yet writing is the ultimate freedom for someone who may be restricted in some way physically, and so as a writer, I am very much committed to promoting the career of writing as a viable income source for people who are unable to work traditional jobs outside the home on a regular basis due to their disability. I hope that this list of resources that I'm sharing today will help support those that choose to do so.
*Please note that this list was originally compiled by novelist Lynn Viehl of PaperBack Writer. She is a self-described "handicapped writer". You can support her by purchasing one of her books. Thank you Lynn.
Resources
CNT keyboard customizer (to customize Click-N-Type keyboard)
Cyber Buddy text-to-speech freeware
Dot-to-Dot MacIntosh Braille Editor
EZMagnifier screen magnifier freeware
Java Accessibility Helper (aids developers in making their JFC-based programs accessible to users with disabilities.)
Natural Reader text-to-speech freeware
Philing.net's free braille and deaf language fonts
Point-N-Click virtual mouse (designed to be compatible with Click-N-Type keyboard)
Rapid Keys Intelligent Virtual Keyboard
Additional Resources:
Helpful Products for Blind and Physically Handicapped People
Simtel's list of 114 programs for the handicapped user
Programs for handicapped users
Do have any other resources that may be useful for a physically disabled writer? Please share them below and I'll add them to the list.
The following two tabs change content below.
I make a living writing, ePublishing, and marketing books and teaching others how to do the same. I have one mission: To turn you into the best writer that you can be while enjoying every minute of it!
Latest posts by Lisa Angelettie (see all)