Have you heard about the new Ezine Articles WordPress Plugin?
People who use WordPress as their blogging platform, do so for many reasons, one being that it has the unique capability of utilizing a variety of WordPress plugins that can do very powerful things — and all for free! Well, this new Ezine Articles WordPress Plugin doesn't disappoint either. It's powerful and a great time saver.
I had the advantage of testing the article directory's WordPress plugin in Beta and while it was first quite "buggy", I looked forward to the day when they worked out the kinks, because I saw the potential in a plugin that you could use to submit articles directly to Ezinearticles.com. It simply cuts down on the step of opening another tab, logging into Ezine Articles, and copying, editing, and pasting my articles for submission.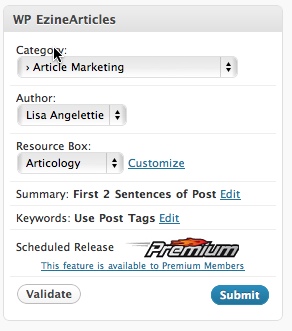 So now the new version of the ezine articles WordPress plugin is released, and I honestly feel that it was worth the wait. This is how it works…
<== This is the control panel that you will see in the top right hand corner of the admin area of your blog. You write a blog post like you would normally would and use this to select the options you need to make for submission.
1. Pick your article category
2. Choose your pen name
3. Select and/or customize your resource box
4. You can choose to use the first two sentences of your article as the summary or you can edit it.
5. You can choose to use your post tags as the tags for the article over at EA.
6. If you are a premium member, you can choose to make a scheduled release of your article, otherwise it will publish once approved by the editorial team.
7. You can press the validate button (I love this feature:) to check and make sure that your content is suitable for submission. This will really cut down on reasons why editors would kick-back your article and get you published that much faster.
8. Then you click submit and you're done.
What also makes this plugin a great time saver is the fact that after you've done that, you can tweak the article (add your affiliate links etc.) and somewhat refresh or rewrite the article and submit to your blog as a totally separate article. All during the same writing session.
So now that the bugs are all worked out, I highly recommend using this plugin to seamlessly submit your articles to EzineArticles.com. You will wonder what you ever did without it.
The following two tabs change content below.
I make a living writing, ePublishing, and marketing books and teaching others how to do the same. I have one mission: To turn you into the best writer that you can be while enjoying every minute of it!
Latest posts by Lisa Angelettie (see all)