Boost Your Biz With Your Own SEO Optimized WordPress Blog!
Are Your Competitors Getting All Of Your Google Traffic?
Here's the bad news… If you are an entrepreneur or own a small business and you don't own a blog, you are already way behind your competitors. At this point you are playing catch up. But here's the good news — you don't have to pay and be under the thumb of an over-priced, over-worked, graphic designer to build a website that works miracles for your business.
Over the years, I have learned how to build blogs that Google loves for myself and for select private clients.
They aren't fancy.
And they aren't going to win any graphic design awards.
But what they will do is bring you streams of steady traffic and convert visitors into paying clients and customer sales. And isn't that what you ultimately want?
How My WordPress Blog Revolutionized My Business
I've been online since 2002 and over the years I have built many sites and revisions of those sites. When I was ready to step up and build a new site I hired a graphic designer who built me a BEAUTIFUL website. It was pink and girly and just right for my niche at the time, BUT it didn't naturally attract traffic, it didn't convert traffic, and I couldn't  make any edits. I had to always call or email him when I wanted changes made. That drove me absolutely crazy and led to a very slow start to my business.
It wasn't until I created my first self-hosted WordPress blog that I started to see a real change in how many people visited my site and were exposed to my content and my offers. The search engines REALLY LIKE blogs but they LOVE highly optimized WordPress blogs. The reason why is that an optimized WordPress blog leads prospects directly from a relevant search to YOUR site and that can mean a bigger list and more income for you.
You Can Actually Do This Yourself
I am known for teaching basically all of my strategies for writing great content that attracts new clients, and optimizing that content for the search engines, and I teach all of this on my blog. So I'm not going to tell you that this is rocket science. It isn't and and you can do it yourself. Here's how:
1. Research and secure a good, keyword rich domain name
2. Sign up for web hosting using that domain name and upload WordPress to the root of that domain
3. Upload an SEO friendly template to your WordPress installation (I like the Thesis Template)
4. Make  critical tweaks to the settings of your blog and to your template to optimize your site for the search engines
5. Add content friendly and hard-working WordPress plugins to your blog to put it on steroids! (Here are a few of my favorites)
6. Start writing blog articles and watch your traffic grow!
Now you could take the countless days (for some even weeks) it may take you to get your site up and running & optimized, or you could spend your time on other income-generating activities in your business and have me and my staff create and install a SEO optimized blog for you.
This is our signature Done For You service that client after client requests, but that we do on a limited basis based on time restraints – but if you understand the true cost of what your time is worth and rather outsource this time intensive task to people like me who actually love doing it — I'd love to take on your project.
It's no secret that I LOVE getting free search engine traffic, especially from my favorite search engine (Google) — and hands down this is the #1 tool that I've implemented in my business that made a REAL difference in unique traffic to my site and in attracting media requests, strategic partnerships, and profitable joint ventures.
Another reason why I want to do this for is because I totally get you and where you are in your business. Being an solopreneur can be very isolating and it can take weeks to find answers to questions you may have about building your site or troubleshooting errors when creating your blog. I remember this like it was yesterday. I would have LOVED for someone who understands "what we do" to build me a search engine friendly blog at the fraction of the cost of a graphic designer or "WordPress expert" on one of the outsourcing sites.
That's why I am undercharging and over delivering on this done for you service. I have a soft spot in my heart for it and I truly want to see you succeed. Getting your site right is really 1/2 the battle. Wouldn't you like to just check it off your "to do" list – finally?!
When You Choose My Team To Build and Install Your SEO Optimized WordPress Blog You Will:
Build your own web pages and blog articles without being captive to an over-priced webmaster
Be able to directly interact with your clients and customers as well as potential ones on your site
Sell your products and services with ease right from your blog
Get lots of Google and search engine love because your site comes with optimization features built-in
Easily optimize pages and posts for  #1 Google rankings (I hold over 150 #1 spots on Google!)
BONUSES!!!
I will install the favorite of all the online entrepreneurs – The Thesis Template to your WordPress blog for optimal search engine visibility for free. (Must have template!)
PLUS I will install all of my favorite "must have" WordPress plugins that all the top online entrepreneurs use to make maintaining your site easy as pie! (My private list of plugins)
ALSO if you're just starting out and this is a NEW site for you, I'll secure a keyword rich domain .com name for your site for FREE! (Keywords in your url are VERY important!)
LAST THING — I will also submit your new blog for rapid inclusion to Google using my proprietary "Clique" method.
This Is A Great Opportunity For You If You:
==> Want to build your first blog ever and get it right the first time out
==> Want to create your first self-hosted WordPress blog and get off of the limiting WordPress.org, Blogger, or Typepad
==> Want to revamp an old site
==> Want to make your WordPress blog more search engine friendly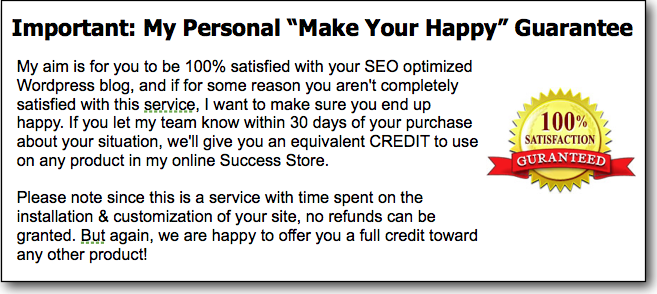 So Are You Ready To Get Starting Building A Better Blog?
Which Risk Free Option Would You Like?
Option One (Best Deal): 
Pay In Full $ 297

Option Two : 
Pay In 5 Monthly Installments Of : $67


You can be assured this online transaction is 100% secure and after your information is received you will get an electronic receipt and instructions within just a few minutes.
The following two tabs change content below.
I make a living writing, ePublishing, and marketing books and teaching others how to do the same. I have one mission: To turn you into the best writer that you can be while enjoying every minute of it!
Latest posts by Lisa Angelettie (see all)