Is Your Writing Simple Enough To Pass The Flesch-Kincaid Readability Test?
Studies prove that the average customer or client responds to information that they can easily understand. Of course the question is: Are you writing content that the average customer and client can easily read and understand? Do you even know? If  your prospects are not connecting with your content, one of the reasons could be that you are writing "over their heads" and trust me when I tell you that this happens more often than you think. In an effort to sound superior, intelligent, or as an "expert" in their fields – many entrepreneurs will "overwrite" their content.
What Does Simple Writing Look Like?
Simple writing should include words that are direct, simple, and familiar to the reader. You should eliminate any needless words. Organization and structure of your content should be simple, straightforward and and arranged in a logical way so that the reader understands the point(s) you are trying to make.
How Do You Know If Your Content Is Readable?
This type of "readability" factor for your content can actually be measured using something called the Flesch-Kincaid Readability Tests.  There are two tests. One is called the Flesch Reading Ease test and gives your content a score based on readability. The higher the score, the better.
For example, a score of 0 through 30 is easily read by college graduates (such as The Harvard Law Review), a score of 60-70 is easily understood by 13-15 year old students, and a score between 90-100 can easily be understood by the average 11 year old student.
The other test is called the Flesch-Kincaid Grade Level test and translates the reading ease score into a grade level. Typically educators use this test to measure the readability of text books and other materials. But we are also educators and can use this test to determine if our content can be easily read by customers and clients.
With this test, the lower the grade level, the better. This test measures word count, syllable count, and sentence count to come up with a score. The score is directly related to the grade level, so for example content with a Flesch-Kincaid level of 8.2 can be easily read by the average eighth grade student.
What Score Is Good For Me?
You will find that your content will differ in scores depending on the topic, how tired you were when you wrote the article:), and other various factors. An easy way for you to get an idea of what a good score is for you is to take a sampling of the articles that were the most "shared" or "commented" on or simply your favorites. Estimate your average score out of those articles.
Keep in mind that you should probably try to not score higher than a 65 in the Flesch Reading Ease score or no higher than a 8-9 in the Flesch-Kincaid Grade Level one (although this particular article scored a little high).
This has nothing to do with the aptitude of your readers. I target business owners and try to keep my Flesch scores as low as possible and the reason why is "time". If my readers can consume and understand my content quickly, I know that they will take action faster, and probably come back to read more. If my readers have to think a little too hard about what I've written, they may save it for later (and never read it!) or just stop reading altogether.
How To Test Your Content
If you own Microsoft Office, you already have the test feature built into Word and Outlook.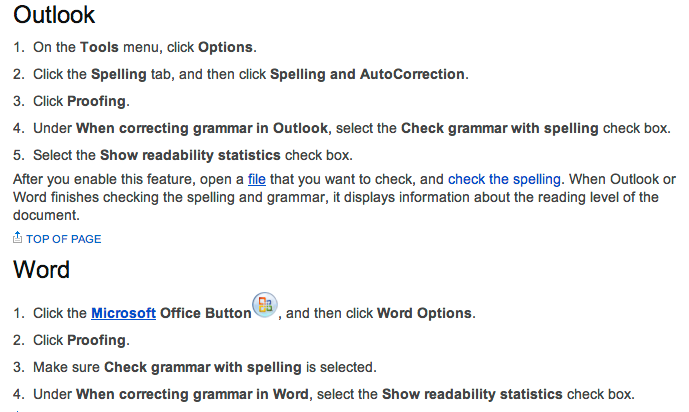 If you are an iWork user there are already tons of requests on the forums for developers to add this feature to Pages and Apple Mail. So hopefully we'll see it soon, but in the meantime if much of your content is published to your WordPress blog then you can test your content using the WordPress SEO Plugin by Yoast or use an online calculator.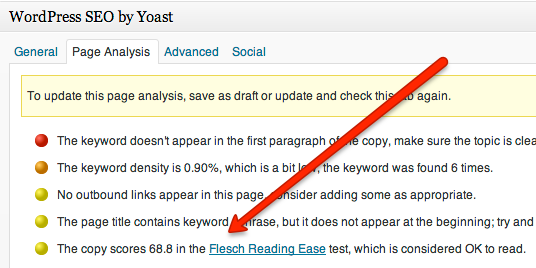 This article topic was written by reader request. If you have a topic you'd like me to cover on the site, feel free to drop me a note over on Facebook.