Are The Pages On Your Website Protected From Google's Panda Smack Down?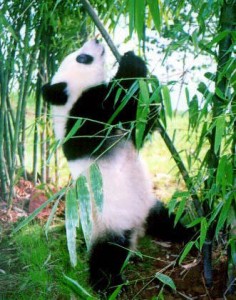 Updated: March 2012
I've written before about how a lot of shifts occurred on the web after Google's latest search engine algorithm tweak. Sites that use to dominate the search engines were hurt pretty badly by what is fondly known in the seo world as Google's "PANDA" updates.
What Was The Point of Google's Panda Update?
To take a serious chunk out of duplicate content on the web and unnatural link building. Now if you follow any of my work at all, then I know that duplicate content isn't even an issue you for you – right:) Great! But you do have to make sure that no one has ripped you off and scraped some of your content and published it to some junky adsense blog.
So this is what I need you to ask yourself:
Do my articles/pages contain unique, detailed, grammatically-correct content that is not plagiarized or reprinted elsewhere?
Not so sure? Then I'd like you to occasionally run some of your more popular articles on your site (ones that were heavily shared in social media or commented on) through a duplicate content tool like Copyscape and make sure that your content is unique and Panda Strong!
While I would not recommend doing this for every article you publish, because who has the time for that, just running one of your more stronger articles every once in a while will give you sense of whether or not your content is being swiped and published, thereby possibly indirectly affecting your ranking with Google.
Do my website statistics reveal a major dip that I have not recovered from?
Take a look at your website statistics. If you see a major dip in traffic for a specific month, for the entire month, then you may have suffered a rolling Panda update. Google continues to do them although we cannot really anticipate when they will be. So you just have to pay attention. If you do notice a sizable drop in traffic (like 40 or 50%)  — don't panic. More than likely you have been hit because of some bad backlinking.
Troubleshooting Backlinking Disasters
Anyone can suffer from a backlinking disaster because for one — you don't have control over who links to you. Yet if you find that your Google traffic has seriously dropped and you run a high content, high quality website then more than likely there is a site that Google doesn't like that is linking to you. Make sure you take a look at any questionable backlinking you've done lately. Backlinks that were paid for. WordPress plugins that troll for comment backlinks, etc. You should eliminate any quick fix backlinking strategy, because chances are it's what's putting you in the mouth of the Panda!
I talk a lot more in detail about how to protect your content in my article marketing program Articology, but implementing today's Panda related tips will give you a really good head start. Please make sure to share this tip (if you liked it:) with others by liking it on Facebook, tweeting it to your followers, sharing it on LinkedIn, and of course giving it the big G+.
The following two tabs change content below.
I make a living writing, ePublishing, and marketing books and teaching others how to do the same. I have one mission: To turn you into the best writer that you can be while enjoying every minute of it!
Latest posts by Lisa Angelettie (see all)