Article Spinning Software Finally Evolves!
As someone that teaches entrepreneurs how to write and publish their own compelling content, I have to make it my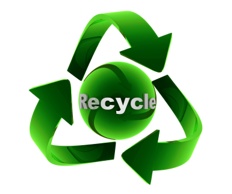 business to try every service and software product on the market, and during my quest I have never found a great article spinning software.
At the end of the day, they ALL produced articles that sounded unnatural, and that ruined my marketing message and my professional image. OR the rewriting process literally took me over an hour to complete and in the same time I could have rewritten the article myself. I never want unintelligible junk on the web with my name attached and I don't want my virtual assistant or myself to spend hours out of our day trying to spin and submit one stinking article. Not smart.
So imagine my surprise when a nice guy named Aaron pleasantly contacted me from Spin Rewriter to let me know about his new article spinning software. Okay, so in the back of my mind, I totally believed that this software would just be another one of those programs or services that I would never use — but I was wrong.
There is a detailed list of benefits that makes this software phenomenal which I will list in a minute, but the bottom line if you are a bottom line type of person is that this software does what ALL the others can't.
1. It will take your article and create many unique versions that are grammatically correct and still sound like you wrote them.
2. You will have dozens or even hundreds of articles for submission to directories, blog networks, 3rd party sites, etc. that you can comfortably submit knowing that they won't get kicked back for duplicate content issues or grammatical & sentence structure problems.
3. You can do all of this literally with ONE click. I spun one of my articles into hundreds of highly unique (89%) articles in less than five minutes. Seriously
Why You Should Use Spin Rewriter Article Spinner(according to them):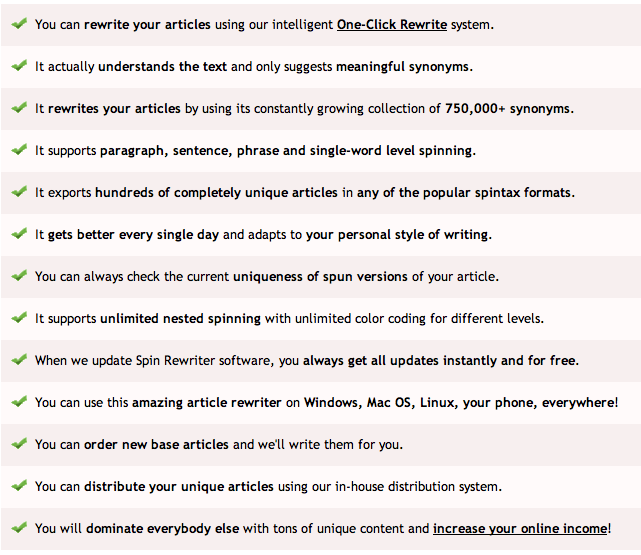 Great benefits right? But again if I'm going to bottom line it here, being able to create hundreds of unique pages across the web will:
1. Create more backlinks to your site
2. Makes your site more important to search engine eyes
3. Then Google will rank your site higher in the search engine results
4. Which means you get more traffic
5. Which means you'll build a bigger list and generate more income
Is that motivation enough? It was for me:) FINALLY — I'm all in!
Here's the link: ==> Spin Rewriter
The following two tabs change content below.
I make a living writing, ePublishing, and marketing books and teaching others how to do the same. I have one mission: To turn you into the best writer that you can be while enjoying every minute of it!
Latest posts by Lisa Angelettie (see all)