One of the major ways that you can and you should be attracting more clients and customers is by leveraging the power of the web. Ultimately what that means, is that you should be taking advantage of the free traffic that the search engines will send you when you give them what they want–content.
How I Increased My Blog Traffic By 33%
On February 13th I got the highest amount of traffic ever on my site and most of it was due to several articles I had written over two years ago on February and Valentine's Day related article ideas. I saw similar results last year, but this year the increase was even higher probably because Google has ranked those articles pretty high for me with related keywords.

For instance, if someone is searching specifically for Valentine's Day Article Ideas, they will find that two of my articles on this site come up in positions #1 and #2 in Google out of over 49 million results!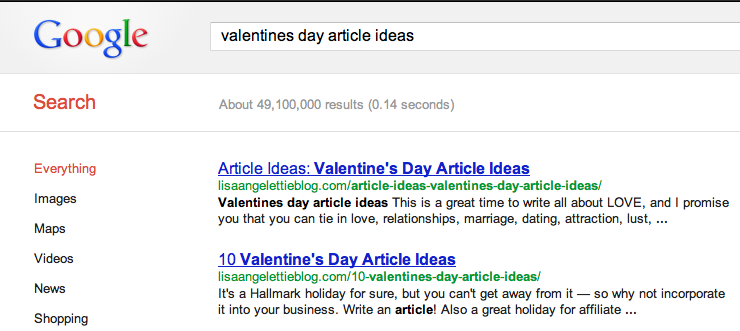 Keep in mind that I wrote these articles two years ago — nothing this year around this topic because I was busy promoting Articology. So my point here is that the real key to consistent traffic that will only get better as long as it still is relevant is to just do it! Create it, publish it, rinse and repeat. And realize that you will reap rewards from your efforts immediately when you push your content out in social media AND for years to come as the search engines rank your content higher and higher in a search like the above example.
You can replicate these types of results as well when you follow a few simple rules:
Do Proper Keyword Research
I didn't accidentally come across the term valentine's day article ideas. I did my research and knew that there was a select group of people searching this topic using these keywords. So I made sure that I wrote optimized articles around them. I talk about this a lot in my article marketing training program Articology.
Keep Stacking Content
It's important that you continually publish content to your blog. Not only to keep things fresh for your clients, but for the search engines, who will rank your older content based on how relevant you continue to be with your new content. Simply put, if I hadn't continued to build my site and stack it with relevant content, I doubt that those articles would hold the #1 and #2 positions. They would get ranked, but probably not that highly.
Keep Sharing Your Content
One thing that I did do differently this year, was to casually remind people through my ezine and social media that if they needed article ideas for February or Valentine's day that I had a few articles around that topic. I really think that this helped my traffic rise for not only the 13th but the entire month of February. Remember that while you are always sharing new content, it's important that you remind folks of all your great older content found deep inside your site.
Keep Your Eyes On The Prize
Remember that content marketing is a long-term marketing strategy. It serves as the foundation for your business and you should ALWAYS be doing something content related in your business. This is not a quick fix strategy. Once you adjust your mindset around that fact, you will do the work necessary to see REAL results like mine as you grow your business.
Are You Going To Hit It & Quit It?
I want you to stop thinking about the pursuit of search engine traffic as a one hit wonder, a one night stand, or a quick fix. Sure there are a lot of marketers out there trying to sell you WordPress plugins, software, and "systems" that will assure you a HUGE avalanche of traffic (can you hear me being sarcastic?), but the truth of the matter is that I am not here for a quickie. I'm in it for the long haul. I can stay committed. I am faithful. I want a long term partner and therefore long term results. That is why I consistently feed the search engines what they want:
Content that is original
There is little tolerance for duplicate content by the search engines and rehashed content by readers. The search engines are getting smarter and smarter each day to all the duplicate content tricks, PLR mess, etc. and the readers are getting a little sick and tired of reading something they know that they've read somewhere else. Be original.
Content that is high quality and useful
I'm going to be totally transparent here. There are definitely days where I have written articles that I just wanted to get done and rushed it. Or there were articles I've written where I didn't really have a lot to say and perhaps should of saved them to include in a more meaty article — but I didn't. Ultimately I will pay the price for those so-so articles because people won't read them or they certainly won't convert. Not when there is a higher level of content out there on my topic. Now I'm not putting a word count on that content – I'm putting a quality meter on it. If it's highly informative or entertaining, then publish it. If it's not really something that you would read yourself, forget it, and go back to the drawing board.
Content that is shared with others
This is a relatively new concept for many business owners but it makes perfect sense. The quality level of any piece of content can generally be judged by how many people share it with others. Think about an article you shared with someone recently. Or a video you "liked" or "tweeted". If you're not totally sold on social media yet, think of "old school" sharing. Comments. Or reviews (like Amazon). Anything that gives your content the thumbs up or the seal of approval is of great importance to the search engines and helps them determine where they will rank your content. For example, if you've enjoyed this article, I'd really appreciate it if you would comment, Tweet it, share it on Facebook, or give it a G+.
Your Turn!
What strategies have you used to increase your blog traffic this year?  What are your trying? What's working for you? What isn't?
The following two tabs change content below.
I make a living writing, ePublishing, and marketing books and teaching others how to do the same. I have one mission: To turn you into the best writer that you can be while enjoying every minute of it!
Latest posts by Lisa Angelettie (see all)