Yippee!!! I just discovered that this site "Article Marketing Strategies" has been awarded a 2010 Apex Award for Publication Excellence. It was stiff competition this year as only 1/3 of almost 4000 applicants were presented awards, and MANY of the competitors were writers who work at big universities, hospitals, or financial companies.
Many of these writers were hired and are paid to write for their respective companies. In fact, many of these companies have marketing budgets in place to support these guys and gals, so considering that little 'ole me is hanging out with some pretty good company, I have to admit I'm a bit excited!
If you want to enter your writing (there are a lot of categories to choose from) for the 2011 competition, make sure to drop by the Apex Award site and download an application. (I have no affiliation with this organization, so I don't benefit in any way whether you enter or not. Just a recommendation:)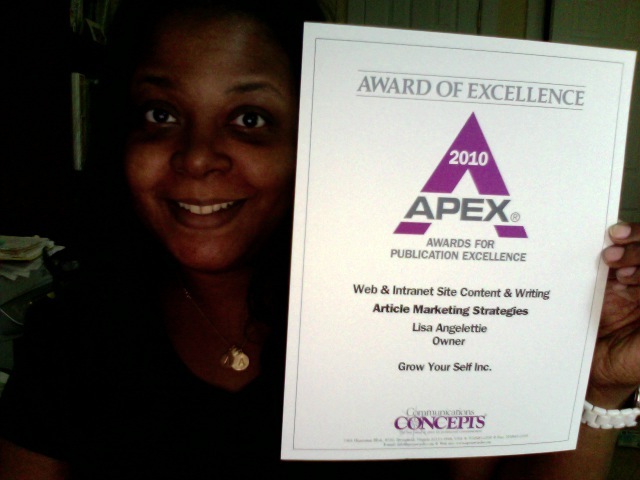 Related Websites
The following two tabs change content below.
I make a living writing, ePublishing, and marketing books and teaching others how to do the same. I have one mission: To turn you into the best writer that you can be while enjoying every minute of it!
Latest posts by Lisa Angelettie (see all)