Every entrepreneur and internet marketer has their particular skill. I have a knack for writing search engine optimized articles. I am always looking for better ways to accomplish good SEO, and so I've looked into the two WordPress plugins promising me an easier path to well optimized articles: Scribe and SEOPressor.
Scribe WordPress Plugin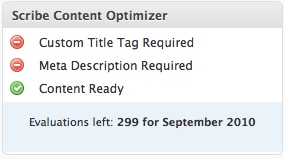 COST
Scribe is a plugin that requires a monthly subscription. I purchased my subscription when it was first released so I pay about $27 per month.
FEATURES
For your monthly fee you get to make 300 SEO evalutions of any article you are writing in your WordPress blog. This evaluation takes a look at your SEO details such as your title tag, meta description, and your article body to assess what your major and minor keywords are, the percentage that you are using them in the article, and an assessment of what you need to do to make the article 100% search engine optimized.
PROS
I really liked this plugin. I felt that I really learned how to tweak my articles for the search engines using the optimizer. I also felt that the creators of this plugin really designed it to be user friendly AND knew exactly what features were necessary. This is not a bloated plugin.
It's also NOT a janky plugin. I never had any problems with installation or running it. Updates are regular with WordPress updates, etc.
CONS
I think after a time, the developers realized that they needed a few more features to justify the 27/mo fee. So they added a few features that you can access via the scribe website. I wasn't impressed. I think that you are either going to invest in this plugin for the optimization with the WordPress admin OR you're not going to do it all.
Also, after you've done a few optimizations, I think you get "the formula". I don't know if everyone is going to continue to pay $27 per month to use this as what will undoubtedly become a sort of "spell check" for article marketers. To keep this plugin current and use as a sort of SEO check of my articles, I would have to pay less for this. A one time fee or $10 per month maybe.
LINEAGE
Scribe is created by CopyBlogger's Brian Clark. So there is a reason why the plugin works well and why it costs what it does. He is a trusted name in marketing and SEO.
SEOPressor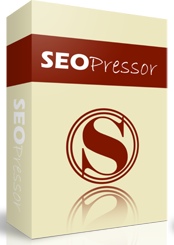 COST
There are two options for buying SEOPressor. One site plugin use is a one-time $47 fee. To use it on multiple sites costs $97. That fee also includes installation.
FEATURES
SEOPressor works pretty much like Scribe albeit a little differently. Basically you set up each article to be optimized for one keyword. (With Scribe you can optimize your article for more than one keyword – primary and secondary keywords.) After you've chosen your keyword and written your article, you can go obtain your SEOPressor score and you will get results telling you what things are well optimized in your article and the things that you still need to add. Just like Scribe you are trying to achieve a score of over 90%, preferably 100%.
PROS
I think that SEOPressor is a little easier to use for the novice, simply because you are optimizing the article for ONE keyword. Things with Scribe could get a little more difficult because it pulls both primary and secondary keywords from your article. It was easy to install and set up, and the quick start guide was simple and easy to use. It's also easier to promote this plugin if you are a marketer, because it is in the Clickbank marketplace.
The biggest pro is the cost. I think that this plugin basically does everything that Scribe does (the important things anyway) for a fraction of the cost.
CONS
I used Scribe for several months before I tried SEOPressor, so I could see that each calculated their respective SEO scores differently. Their "formula" for success is a bit different from each other. So your articles are optimized by two slightly different standards. As a longtime web writer, I think that I lean more towards Scribe's optimization recipe. There are a few things about SEOPressor's that I don't agree with.
It's also difficult to optimize your article towards that one keyword when article marketers write lots of articles that target long-tail keyword phrases. You cannot use those in SEOPressor.
Also, I used the optimizer and sometimes found errors. It was not seeing things that I had in place. So that was a little frustrating.
LINEAGE
This plugin is developed by SEO expert Daniel Tan. Not the same legacy as Clark, but definitely a respected marketer.
BOTTOM LINE: I own both and am still comparing and contrasting, but can say that if you are a beginner SEOPressor does the job for less money, It might be the way to go. If you are an advanced marketer and want to use the optimizer for clients, etc. then Scribe may be the better option. There is slightly a bit more flexibility as to the results you can report to your clients.
The following two tabs change content below.
I make a living writing, ePublishing, and marketing books and teaching others how to do the same. I have one mission: To turn you into the best writer that you can be while enjoying every minute of it!
Latest posts by Lisa Angelettie (see all)