Q: I run a retail business and am wondering if I should even bother joining Twitter? I see that a lot of businesses online feature Twitter badges on their sites. But I don't have a lot of time for mindless chattering with people who may not even live near my business.
A: I really like Twitter. Am I a Twitter master? No. The reasons why I like it are that it's the easiest of all the social media websites. It's fast. There are a zillion 3rd party tools out there to make the Twitter experience more robust. It's a great way to build "relationships" with people that may visit your site and your retail business. Finally just getting out there and "tweeting" is a great way to get indexed by the search engines.
I was on a teleseminar call and did a couple of tweets about it while I was on it, and saw my tweets very high in the search results for the people teaching the seminar. That's me (@girlshrink)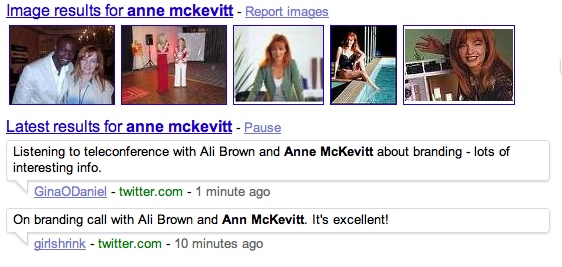 So the great thing about Twitter is that if someone is searching for someone or some topic you are discussing, especially a hot topic, then you will appear in the coveted top spots of Google's  Twitterstream. So should you bother joining Twitter. The free social media tool that everybody and their mama is on — yes. I guarantee you that you have potential prospects on there waiting to get to know you:)
The following two tabs change content below.
I make a living writing, ePublishing, and marketing books and teaching others how to do the same. I have one mission: To turn you into the best writer that you can be while enjoying every minute of it!
Latest posts by Lisa Angelettie (see all)