Lately, I've been writing about the many benefits of using Google's free web-based tools. My last article discussed using Google's web crawl tool, but today we are going to talk about how to use Google Alerts in an effort to generate article ideas and to keep an eye on the competition!
1. Make sure that you have a Google account. You have one of these if you've ever used any of Google's tools such as gmail, adsense, reader etc.
2. In your dashboard, look for the Google Alerts link. Click on it and you should come to a screen that looks like this: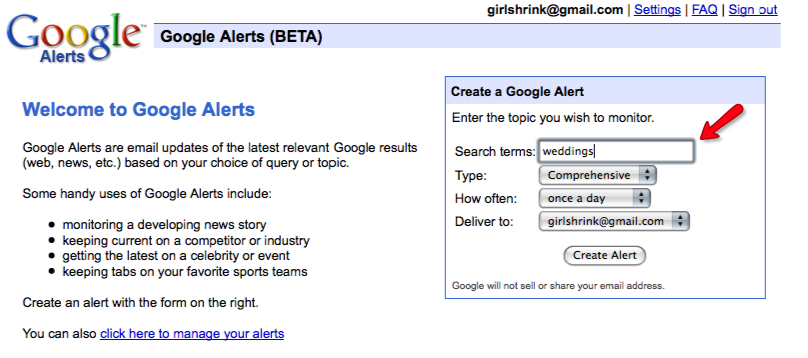 3. Enter the topic you want to monitor in the search terms box. If it is a person, then it would be best to put the name in quotes such as "Lisa Angelettie". If you don't, you will get a lot of results with all types of Lisa in them.
The types of things that you need to monitor would be all topics pertaining to your niche. Your competition's name. Your keywords. What this does is allow you to see all the information on the web that is being published in and around your niche and by your competition. This lets you know what others are writing about and how popular a topic is (based on your keywords results).
This also allows you to monitor who has written some nice things about you, or who has linked to you, so that you can give them a proper thank you. So that should be the first term you keep track of – your name. I've entered "weddings" for the example above.
4. You can choose what type of media results you want in the next drop down box. Video. Blogs. News. Groups. Web. Or all of the above which is named comprehensive. I always choose comprehensive.
5. Depending on what terms you are following (and you will create an alert for each term you are monitoring), you may want to see the results daily, weekly, or as it happens. If it's a popular term then you may not want to see results as it happens because you could get a zillion emails a day. Nobody wants that! For the search term I used in the example above, weddings would result in too many results so I would probably pare it down to "weddings on a budget" or "june weddings" or I would just choose receiving results once-a-week.
6. Your alerts will come to the email address associated with your Google account or they can be delivered via RSS feed. I like email where I set up a special folder to receive them, mark them as read, and then I take a look at them at my leisure.
Using alerts had helped me tremendously. I know what topics are hot in my niche. I know what people are blogging and writing about. I also know what types of content my competition writes and what they don't (so I know what need to fill). I also get a lot of article topic ideas from scanning my alerts. I may write something about a topic that someone else has written on but just add my own spin or twist to it.
That's all there is to it! Have you found using Google Alerts useful in your business? Let others know by leaving a comment below if you have any suggestions or tips on how to use it.
The following two tabs change content below.
I make a living writing, ePublishing, and marketing books and teaching others how to do the same. I have one mission: To turn you into the best writer that you can be while enjoying every minute of it!
Latest posts by Lisa Angelettie (see all)