I talk a LOT about how to attract new clients but today I'd like to pay attention to how we are going to "convert" those prospects into paying clients. Well there are a lots of strategies for this, my primary one being building a "trust relationship" with readers. Yet that takes some time to nurture and cultivate, so here is a strategy that works quickly and produces immediate results — the art of saying thank you. A thank you goes a long way, especially on the web where things can get really impersonal. So today I want to show you how you can "thank" people who graciously take time out of their day to leave a comment on your blog.
Step 1 – Create A Thank You Page
The first thing you need to do is create a page in WordPress where you speak specifically to people who have left a comment on your blog. People who have left a comment on your blog are interested in you and your content, so it's a good idea to ask for them to take the next step and subscribe to your updates/newsletter. You can also talk a little about yourself and start building a "connection" with your readers that's a little more personal. Here's a chunk of my thank you page, but if you want to see the entire page and it's your first time leaving a comment, just leave a comment below so you can see what my page includes as well as well as the "magic" of the redirection:)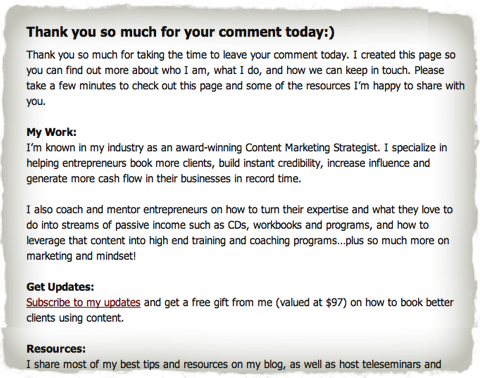 Step 2 – Create The Redirection
There are a few ways you can do this. Pick which one works best for you and is easiest to implement.
Option 1 – Create the redirection in your functions.php file by adding this piece of code. Special Thanks to Paulund for this tip. This avoids you having to download yet another WordPress Plugin. If you use the Thesis template, then add your code to your custom_functions.php file.

Option 2 – Use the Comment Redirect WordPress Plugin by Yoast
This is probably the easiest solution to implement. You can download the WordPress plugin simply by going to the "plugins" section in your dashboard and searching for "Comment Redirect By Yoast". Download and activate the plugin.
I use quite a few plugins on my site and am trying to be very selective about anything I add, it's better for my site (any site really) if I can perform many of the "tricks" I want by adding code rather than plugins. Therefore I have gone with option 1.
Check It Out!
If you'd like to test drive my site out first, feel free to leave a comment of any length to this post, and watch how it works.
Questions? Ask me over on Facebook.