Still having trouble tweeting regularly on Twitter? Me too. I think I've found the solution to all of our problems – Twitterbar!
I have to admit that sometimes the web browser Firefox can be a little — janky! That's why as a Mac user, I often prefer to use Safari. (It's fast!) And I guess some of you PC folks like internet explorer (why – I don't know:) or you just haven't taken the time to even try a different web browser. BUT I just downloaded and started testing a cool Twitter tool that is a Firefox Add-on: TwitterBar.
It's not new. Honestly, I don't know why I'm just noticing it. I think I saw Problogger Darren Rowse using it yesterday and I wanted to know what it was. I downloaded it and presto – fast Twitter posts. Quicker than opening up Tweetdeck or Hootsuite (both of which I love), but best of all it has a cool feature which us Twitter grown-ups can't ignore.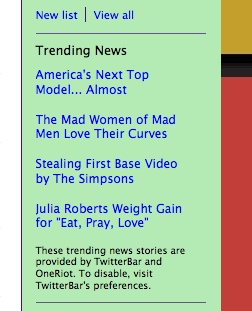 Once you download and gain access to the add-on, it will add REAL trending news topics (clickable links) to your Twitter sidebar OR you can search for trending news right in your toolbar. You don't have to be subjected to just the #justinbeiber or #thatshot trending spammy topics! Ugh, I'm so sick of them.
If you're looking for another cool productivity tool that is easy and simple to add and use – then this one is it. Sometimes when I'm writing articles, I want to mention that I'm writing the article before it's published, etc. Nothing fancy. Just a quick post. You know what God intended Twitter for:) Who feels like opening a whole big Twitter tool for that? So here's how you get started tweeting faster than the speed of light…
1. If you don't have Firefox. Download it. It's free, for both PC's and Mac, and is really the better browser for marketers. There are loads of add-ons that make your work much easier. Another example of a good one is the Alexa toolbar. Everytime I open a site, i can see the Alexa ranking. My Google toolbar let's me see PR ranking for every site. And there are many others that I use. You can simply browse Firefox's site for good add-ons.
2. When you're up and ready to go, download the Twitterbar addon. It'll take less than 60 seconds. Enjoy!
3. Come back and tell me what you think or if you have easy to use Twitter tool suggestions – leave 'em in the comments section.
The following two tabs change content below.
I make a living writing, ePublishing, and marketing books and teaching others how to do the same. I have one mission: To turn you into the best writer that you can be while enjoying every minute of it!
Latest posts by Lisa Angelettie (see all)