Get Your Content Better Google Ranking
Out of all of the search engines, I must admit that Google is my homeboy! The reason why is that Google and I have a very wonderful reciprocal relationship. I give him content he loves and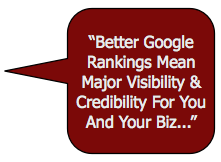 he gives me the ranking that I deserve:)
Getting your content better Google ranking is key to getting major visibility & credibility on the web. Many of the strategic partnerships I have made have been due to the fact that my partners "discovered me" on the web via a web search. Totally organic. Totally free. Totally worth it!
So without further ado, here are a few of my favorite articles discussing all things "Google" related that will help you use Google to your advantage and get better Google rankings for all your keyword terms (please visit this page again as Google is always changing and I will be continuously adding content):
NOTE: If you enjoy any of the articles below, I'd love it if you could share them with others by telling Google that you like them. Just click this link or the g+ button in the top right-hand side of the page.
Sitemeter Vs. Google Analytics (part 2)
Using Google Webmaster Tools – Web Crawl
Submit Your URL To Google – Manually
How To Use Internal Links For Better Search Engine Ranking
Google Analytics WordPress Plugin
How To Use Google Alerts Effectively
Are Your Articles In The Google Sandbox?
Gmail Accounts: Get Control Of Email Clutter
Can I Merge My Google Accounts?
How To Attract More Ideal Clients With Google Plus
How To Exclude IP Address From Google Analytics
How To Find Google Analytics Tracking Code
How To Get #1 Search Engine Rankings Using The Google Mindset
For more tips on how to write content that Google loves and ranks highly, please subscribe to my marketing articles that I publish weekly:
The following two tabs change content below.
I make a living writing, ePublishing, and marketing books and teaching others how to do the same. I have one mission: To turn you into the best writer that you can be while enjoying every minute of it!
Latest posts by Lisa Angelettie (see all)