Not long ago, I was crusing my little cousin's Facebook page and saw some not-so-favorable photos she took in her college dorm. Nothing quite Miss America scandalous, but not really appropriate if a future employer chooses to "Google" her name. That's why it's more important than ever for her and especially important for entrepreneurs like us to have as much control as we can on what people see when they Google our names.
So is your name and photo on page one of Google results when someone searches for your name?
I can tell from my site statistics that quite a few people search for "Lisa Angelettie" on the web and then click thru to my website, but what's also great is that people can be sure that they are finding ME because my full name and photo appear on the first page when you search for me. Here's an example of a page one, personal search of my name "Lisa Angelettie" in Google:

There are two results for my name because I created two personal profile results for myself based on my two major websites (lisaangelettieblog.com and girlshrink.com). I also included my maiden name because a lot of my earler writings for The New York Times and Gannet News were done under that name, and I included a common misspelling of my name so that I wouldn't miss that traffic either.
Now while I am the only result for my name (because it isn't a common name), perhaps your name is, such as my maiden name: Lisa Miller. That's why it's even more important for you to set up a profile result for your name in the search engines.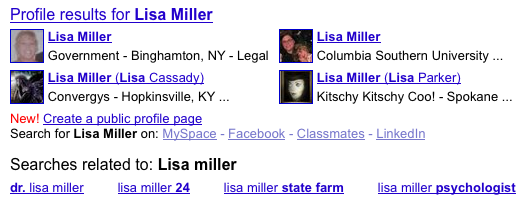 So How Do You Create Your Own Google Profile Result?
It's quite easy. You create a free Google Profile which gives you total control over how you appear in Google when people search for your name. Go to: http://google.com/profiles If you already have a Google account (adsense, gmail, analytics, etc.), then it's simply a matter of clicking on the create a profile link within the account.
If you are still struggling with whether this is something you should do, consider the fact that you are an article marketer, a published author, and many people will remember your name if nothing else. If they want to find that article they read by you but can't find it – they will Google your name. If they read an article and want to learn more about you — they will Google your name. If potential JV partners want to learn more about you and your business they will Google your name.
So what are you waiting for? Make sure you name and pic appears on Page 1 – every search!
The following two tabs change content below.
I make a living writing, ePublishing, and marketing books and teaching others how to do the same. I have one mission: To turn you into the best writer that you can be while enjoying every minute of it!
Latest posts by Lisa Angelettie (see all)