How To Exclude Your IP Address From Google Analytics
I'm pretty sure I've written before how much I love Google Analytics as a tool for analyzing my website statistics, but one thing that was always inconvenient was that G.A. did not automatically ignore traffic results from my own computer. This can result in an inflated traffic stat, especially if you have been doing edits on your site for several days (or more). So I decided to do a little digging and found how you can exclude your computer's IP address from Google Analytic results pretty easily.
FIRST – Find your IP. internet protocol address. Go to a site like What is my IP and note the number. It will look something like this XX.XX.XX.XX or XXX.XXX.XXX.XXX (or some variation). Jot the number down.
SECOND – Log in to your Google Analytics account.
THIRD – Select the Profile (which is your domain name) of the site you want to edit and click the Edit link located on the far right-hand side of your screen.
FOURTH – On the Profile Settings screen, scroll-down to Filters Applied to Profile. On the far-right, click the +Add Filter link.
FIFTH – This will bring up the Create New Filter page. Choose the Add new Filter for Profile radio button. Next, put a name in the Filter Name box. Under Filter Type, go to the middle drop-down box and choose traffic from the IP addresses, then enter your 8 to 12-digit IP address in the box.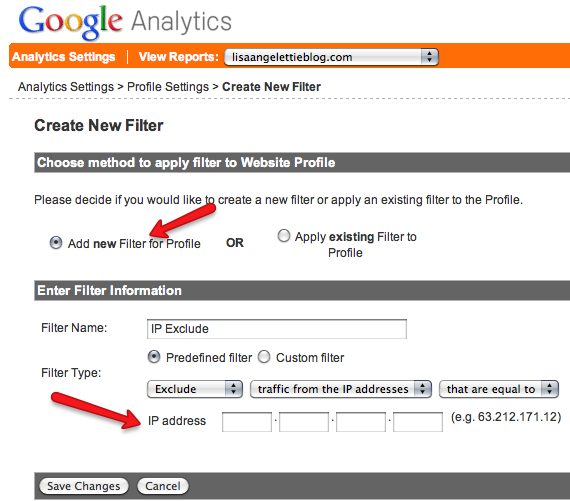 SIXTH – Click Save Changes and you're poof! You're finished.
ALSO: If you have more than one IP address to exclude you will need to apply additional filters per the example steps above.
However, if you have a "range of IP address" to exclude, Google provides a tool that will allow you to generate the single line of IP address code that you can in turn paste into the IP address field above using what is called regular expressions. For information on how to do that, visit the below page from Google Analytics help: How do I exclude traffic from a range of IP addresses?
NOTE: Filter order is IMPORTANT in Google Analytics. If you have several filters already, make sure THIS filter is listed first so it covers everything.
Additional Reading: Google Analytics Vs. WordPress Stats