How To Use Internal Links In Your WordPress Blog For Better Rankings
When I seriously began writing articles to attract search engine traffic years ago, I read a lot of search engine optimization (seo) information and followed a lot of the big bloggers online and learned that one of the important factors for getting a bit of Google love is to link to relevant and related information. These links include external links to other sites with related content to the topic of your article and/or your site, but the other links that you should also include are called internal links. These are links to other related articles already on your own blog/site. There are reasons why this works.
First of all it's important to understand that Google and the other search engines favor articles which offer readers a variety of sources, points of view, and other related supplementary information (all links) inside your blog articles. This is one of the SEO secrets that is part of the formula I use to write and publish articles that Google loves and ranks. You MUST include several links to related articles and/or websites in your articles if you want to give them a fighting chance to rank well in the search engines.
What's great about creating some of these internal links in your blog, is that for one you give your site a bit of "stickiness" and a better bounce rate. That means that people reading article 1 will be more likely to stay longer and read other articles on your site because you have linked to them. People who stay longer on your site, have more exposure to your message, and are more likely to invest in you.
Now it use to be, a while back, that if you wanted to link to other posts and pages on your WordPress blog that you probably opened another page in your web browser and searched your site for the articles you wanted. Then you would copy and paste those links into the new article you were writing in the other browser window. Personally, I found that a tremendous pain, and it limited my use of internal linking (even though I knew better!).
Now due to one of the many WordPress updates, when you now use the visual editor to create a link, you have the option of entering the full url to the link you want or to search through your existing content and link to that. Here's how you can do that:
1. As you are writing your article in the visual editor, you can create a link to another post or page on your blog by clicking on the link icon.

2. After you click the link, a box will come up where you can either manually add your link or search your blog for an article post or page to link to.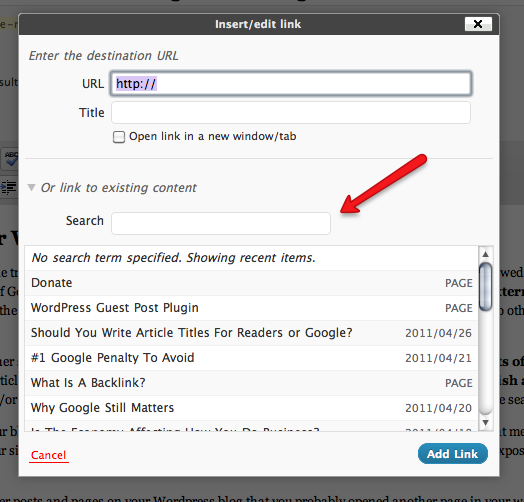 3. Select your page or post, click "add link" and you're finished! It's very fast and easy to do – so there's really no excuse to start building up your site's rank by including related internal links to every post you write.
Questions or comments about internal linking? Leave 'em in the comment section.
The following two tabs change content below.
I make a living writing, ePublishing, and marketing books and teaching others how to do the same. I have one mission: To turn you into the best writer that you can be while enjoying every minute of it!
Latest posts by Lisa Angelettie (see all)