Pinterest Was My 3rd Top Referrer Of Traffic To My Website Last Week.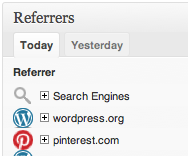 I received pretty good traffic last week. Typically Mondays through Thursdays are good days for traffic to my website and to most websites, but when I checked my statistics, I noticed something really interesting. As usual, my primary source of daily traffic came from the search engines (mostly Google), my secondary source of traffic came from WordPress.org because I have a WordPress plugin in the repository there that I created (which is in beta right now). Bloggers are downloading it, but I haven't really promoted it yet because I'm still working all the kinks out. It's called WordPress Guest Post.
BUT my 3rd primary source of traffic was from the new social media website Pinterest and I was pleasantly surprised, because there wasn't much I had to do to earn that new traffic.
Now I am by no means a Pinterest expert (and really who is at this early stage?), but I believe that the results I have seen by using it for only about 10-15 days are really worth sharing. Therefore if you are a small business owner, solo professional, and your ideal clients are women then I've written this especially for you.
Pinterest Tutorial – Section 1
What the heck is Pinterest? Pinterest is a social media site that acts as a virtual online cork board. In my home office, I have about three different cork boards up. Two have lots of personal pictures of my kids, my friends, my hubby, my parents, as well as a few mementos from long ago like a few buttons from high school and college, and stuff that my kids have made me over the last few Mother's Days:) So needless to say the whole cork board thing resonated with me. I mean it's fun!
Also, Pinterest is experiencing huge growth especially among women of all age ranges (which is unique) in social media. So if your ideal client is a woman, then this is definitely the place to find her. 
It took me a few minutes to "get it", but the general point of Pinterest is to "pin" or "repin" images of things that you like from websites or from other Pinterest users and create your own virtual corkboards of items that you like. These items then get categorized with topic categories, titles, and descriptions of your choosing. As you can see, I have a mixture of business and personal boards from content marketing to handbags (my favorite accessory, no okay my drug of choice!). I think it's a good idea to have a mixture of business and personal stuff.
You don't want to blatantly promote yourself and you DO want to appear personable and authentic. But most of all, there is more to you than your business isn't there? So why not express that visually over on Pinterest. Again, it's a lot of fun:)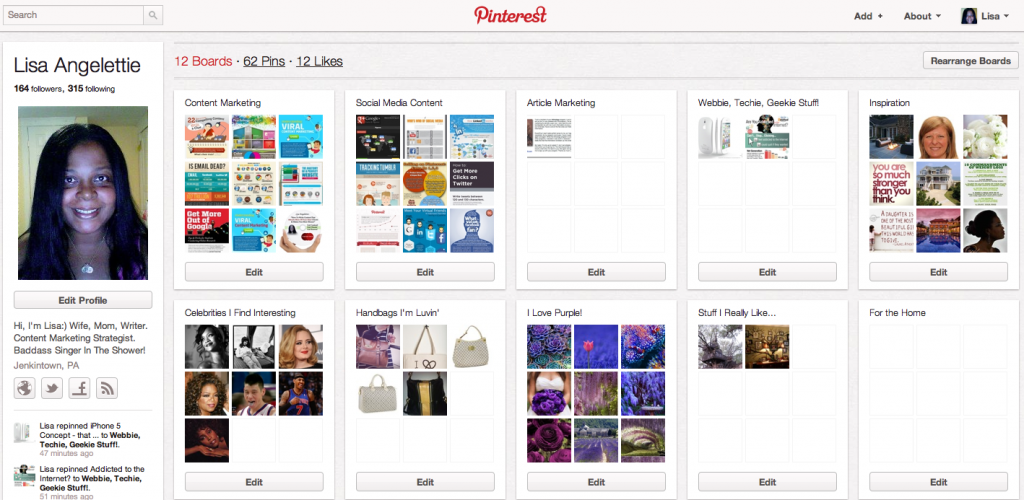 Pinterest Tutorial – Section 2
1. The first thing you need to do is create an account at Pinterest, and at the time of this writing you still need an "invite" to create an account. This isn't really hard to obtain. You can request one directly from the home page and wait for it for a few days, or you can send me over your email address and I'll add you to my list of "friends" to send invites to.
2. Once you are accepted into the fold, the first thing the site will ask you to do is to start pinning, but I wouldn't do that. Like any major social site I join, I rather build out my profile first.
3. The first thing I would decide on is my Pinterest username. The great thing about this site is that you can change it if you need to, which I did. The best thing is to make your username consistent with the profiles of your other social media profiles. I use Lisa Angelettie everywhere so that is what my username is. Pick yours.
4. When you joined Pinterest you had a choice of  logging in and setting up your account via Facebook, Twitter or a manual login. If you set up your account via Facebook or Twitter, Pinterest will automatically use your profile photo on that site as your photo on Pinterest.
5. Next you can add a brief description of who you are which will be located under your profile photo.
6. Then you can add a link to your website (very important!). Use the full url address. [http://LisaAngelettie.com]
7. Decide on whether or not you want to connect your account to your Facebook account & timeline (which I recommend).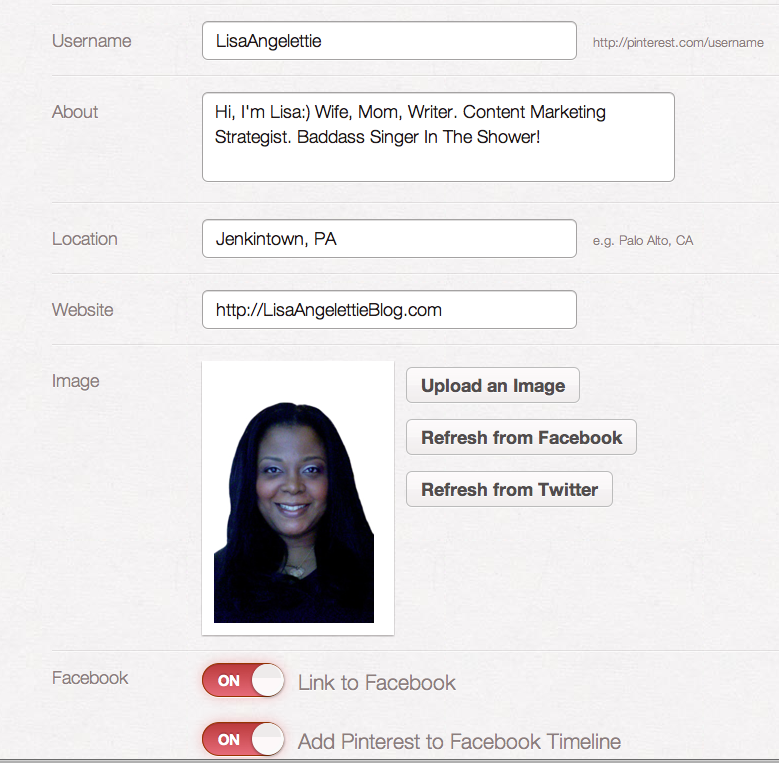 Pinterest Tutorial – Section 3
Now that you're all set up, it's time to start pinning. Pinterest sets you up with several boards already such as Books That You Like, Stuff For The Home, etc. Very general stuff, but stuff to get you going. You can keep these boards or you can edit them. You can also create more. It's really simple.
1. The easiest way to start pinning is by "repining" another Pinterest member's photos. So you can conduct a basic search in Pinterest for a topic such as "dogs". You will then see results for people who included dogs in their title or description of their photo. If you see a photo that you like, scroll over it and you'll see 3 icons with which you can decide to:
>> REPIN IT so that you can add it to one of your boards
>> LIKE IT if you like the picture but don't want to add it to your boards
>> COMMENT ON IT if the pic moves you to speak
2. You can also add a Pin It Bookmarklet to your web browser which will allow you to pin photos that you like as you cruise around on websites. How this works is that you click on Pin It, the bookmarklet will "pull" all the images it sees on that page and give you the option of selecting which photo you want to pin.
Pinterest Tutorial – Section 4
Followers
Like other social media sites, you can follow people on Pinterest, you can follow specific boards that they've made and of course they can follow you as well. There will be plenty of people who will want to follow you based on your boards and when you go to follow them back, you'll see that they have zero boards created yet. So, a word to the wise is decide on what your strategy is going to be.
If you sign up via Facebook or Twitter (I signed up via Facebook), Pinterest found followers for me who were already my Facebook friends and automatically started following them. That's fine, because I do want to cross promote and engage those friends through multiple platforms.
Will you follow everyone who follows you?
Will you seek others to follow?
*A great benefit to being an early adopter on Pinterest is that you can get in front of many of the leaders in your niche in a very unique way. Most people will take a few minutes to look at your boards regardless of who they are because this site is so new. They won't ignore you. So it's important to make sure you are pinning relevant images for your topic and get in front of people who you normally would have a tough time meeting.
Pinterest Tutorial – Section 5
Pinterest Marketing
The biggest question that entrepreneurs ask about Pinterest, is how on earth can it be beneficial to business owners. More importantly — is it a waste of time? We already spend so much time on other social media sites.
The reality is that Pinterest is so new, that no one can truly predict what impact it will have on business owners, but there is one obvious strategy that all business owners can take advantage of on Pinterest and that's the fact that we know that an unprecedented amount of women are on the site AND that it is a chance to present and establish your brand in a unique way — visually.
A few Pinterest Marketing Ideas
1. Pin your logo.
2. Pin some of the more interesting images from your website.
3. Pin testimonial images.
4. Pin infographics (really big on Pinterest!)
5. Pin pictures of you and your family, you and your clients, or you speaking,
Pinterest Tutorial – Section 6
Search
Pinterest is gaining traction in the search engines, but it's not what I call a Power Link yet, but it's new and it needs time to grow. I did do a search for "I love purple" and a Pinterest I Love Purple board did end up high on page 2 of Google. That's okay, but not great. So I wouldn't expect any major search engine traffic from Pinterest at this time.
Social
Pinterest makes it very easy to share what you have recently pinned or liked with Facebook and Twitter making it a seamless and effortless visual/social conversation. I really like this about Pinterest.  I also like that it adds something different and engaging to our timelines and newsfeeds, instead of just more of the same. Plus, this is where the traffic comes from. Facebook and Twitter. Someone sees something you've pinned on there and follows the path back to your board on Pinterest and then back to you and your website.
Engagement
While online engagement isn't anything like Facebook or Twitter, there is an advantage to that. When someone comments, there is a probably some passion or meaning behind the exchanges that is worth reading. For example, I read a few comments made on a board that features extreme dog grooming hairdos. There are some people on there who are livid with these groomers, and there are other people who believe that it is "art" and that these groomers obviously love dogs. That was probably the only exchange in the form of comments I saw on Pinterest today and it was good! So you see there isn't a lot of meaningless chatter or hyper-promotional crap on Pinterest – yet:)
So take advantage of the simplicity, quiet and beauty of it now!
Pinterest Articles For Further Reading
56 Ways To Market Your Business On Pinterest
What Marketers Can Learn From Whole Foods On Pinterest

Ideas For Marketing Your Business On Pinterest [Infographic]

Pinterest Infographic, an Infographic by Linchpin SEO
The following two tabs change content below.
I make a living writing, ePublishing, and marketing books and teaching others how to do the same. I have one mission: To turn you into the best writer that you can be while enjoying every minute of it!
Latest posts by Lisa Angelettie (see all)