My Article Marketing Income
As our year comes to a close, you will no doubt read dozens of articles and emails from folks on what you should do to improve your writing, your blogging, and your business for the following year. I myself love to set business intentions for myself every new year — but before I do that — I thought that it would be a good idea for me to share something that I've never shared with you all before. Where my income comes from…
This was a cool exercise for me to do this year, because I am not going to even lie and say that I am meticulous about my business bookkeeping. I'm not. I basically know what comes in and have a round about idea on what bills have to be paid monthly (like webhosting, autoresponder, coaching, etc.) This actually took a bit of digging and calculating, but here it is – and I'm proud of myself! First, that I compiled this for you and secondly, because I did pretty well this year.
What's the point of showing this to you?
Well, I want you to see that there is income to be made through article marketing and to give you a little direction of how people are REALLY making money online. Not some hyped up claims. This graphic shows my income breakdown for LisaAngelettieBlog.com (which includes Articology.com), GirlShrink, as well as a variety of other micro-niche sites that I have built and run.  So here it is…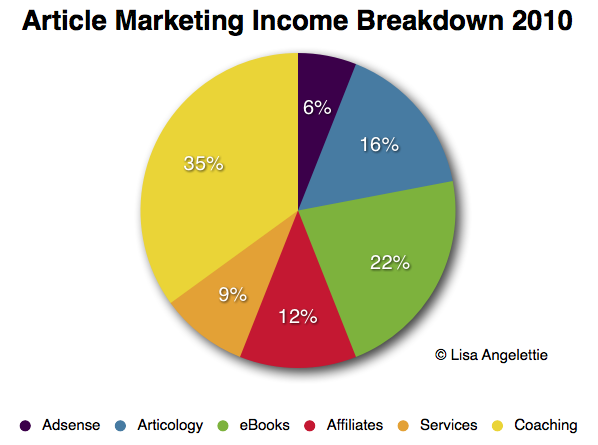 COACHING
As you can see from the graphic, a major portion of my income came from coaching private clients this year. I expect this number to stay the same or perhaps grow as I transform the way I deliver coaching to my clients in 2011. While I at first shied away from taking on coaching clients a few years ago, I have since discovered that delivered in a certain way — coaching can be rewarding for both me and the client as well as a serve as a lucrative income source for my business.
EBOOKS
The next largest source of income for me comes from selling ebooks that I have written and published. I am very happy with this number because last year I made a concentrated effort to put more energy into ePublishing. I knew it was the wave of the future. I know it's lucrative if you write information people really want – but I had a little trouble with execution. I always had a bright idea but had a hard time putting those ideas into action. This year was a turnaround year for me because I got a lot more organized once I introduced a writing and publishing calendar in my business.
ARTICOLOGY
Third comes my income from my continuity program a.k.a. article marketing training program for newbies – Articology. I have guessed that this percentage was probably higher last year because my ebook stats were lower and because I launched it over a year ago. Sales are always better in the beginning of a launch and then they taper off. I expect this number to decrease if I do nothing, but my plan for 2011 is to grow my affiliate team. So perhaps that number will stablize with the help of affiliates.
AFFILIATES
Next comes my affiliate income which typically was my highest source of income until I decided to take on private clients. Affiliate income means all the money that I make promoting other people's products and services. This includes biggies like Amazon, Commission Junction, Clickbank as well as smaller affiliates.
SERVICES
My next percentage comes from money I make providing Done For You or DIY services for clients which I really haven't promoted in a big way at all yet. When folks ask me, I do it. Things like setting up Thesis Optimized WordPress Blogs, squeeze pages, etc. These are all essential parts of successful article marketing, yet I don't want to make them a really big part of my income because they are time consuming.
ADSENSE
Finally — my lowest percentage comes from Adsense revenue. This number fluctuates as I add niche websites to my ePublishing group. I'm also always testing the advantage vs. disadvantage of using Adsense on certain sites (like this one). I had Adsense on here for a time, and made some money from it, but not enough to justify keeping it on the site. I thought it was too disruptive to the flow of my information here. I'm not really looking to increase this percentage for 2011, I just want to see an incremental increase over the next 12 months as other parts of my business increase in revenue.
CONCLUSION
I've created all this income around using the solid principles of writing articles and using them for marketing purposes as well as re-purposing them into ebooks and ecourses (ePublishing). The coaching I do is all on article marketing and ePublishing. Look out for me to talk more about this over the following days and how you can take steps towards making a real living online with article marketing and ePublishing in 2011. It's going to be a great year!
The following two tabs change content below.
I make a living writing, ePublishing, and marketing books and teaching others how to do the same. I have one mission: To turn you into the best writer that you can be while enjoying every minute of it!
Latest posts by Lisa Angelettie (see all)