The Article Marketing SEO Series
Part II – Article Titles Ain't Sexy
My undergraduate degree is in print journalism. I wrote for my college paper and for a community paper during that time, and then went on to land a few jobs in journalism after I graduated. One of the things I stressed about with every article I wrote during those days were the titles of my articles. They had to be clever. They had to be catchy. They had to be better than the last title I wrote. Heck, they needed to be sexy! Well that was then and this is now, and in the wonderful world of article marketing SEO – article titles ain't sexy!
Don't get me wrong, article titles are still extremely important, but in different ways. In fact, the title of your article is the #1 skill that you have to get right or you are simply writing for yourself – and not for others to find and read your work. It took me a minute to understand that concept in the old days, because I had been trained every since I was little (writing book reports, term papers, etc.) to write "clever" titles. I'm sure the same holds true for you. You have been taught these same principles by English teachers etc. So now I have to re-teach you how to write titles that search engines love and that REAL people search for. So here it goes…
The most important strategy for writing article titles that attract traffic is to write them the way that people will search for them. This means that your articles will be rich in keywords, may be kind of short, and aren't sexy at all — but that's okay. Traffic is our goal. Here's an article title example using dog food as the topic:
Bad: Want To Cook Doggy Style? (Play on words. Kind of cute. Yet no one would type this to search for information on how to cook food for a dog.)
Better: How To Cook For Your Dog (This is better. A how to title always works well.)
Best: Cook For Your Dog: Yummy Recipes (This is best, because the keywords are up front.)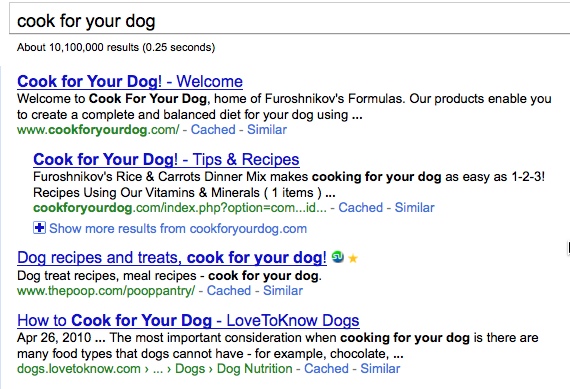 This is a really easy concept to implement when you know HOW the people in your marketplace search for information, but what if you aren't sure? That's why I recommend researching good keywords and keyword phrases. What this will do is tell you what words prospects in your niche use to search for information. That way you can create an entire list of article titles that are keyword rich and likely to rank well in the search engines.
Tools you can use to do your keyword research include Google's free keyword tool, Wordtracker's free tool, or Noble Samurai's paid keyword tool. My recommendation is to begin with the free tools until  you get the hang of doing keyword research. Then perhaps later you can invest in a paid tool.
While you are at it – write variations of your titles using the same or similar keywords. This will help when you go to submit and publish variations of your articles. And that's it! Easy article marketing seo optimized titles that ain't sexy but pack a powerful search engine punch!
Next time we will talk about the essential elements you need in the first half of your article. Things that the experts don't tell you! Those secret sallies:)

*Next article: First Things First! (writing your first paragraph)
Need to catch up on the Article Marketing SEO Series? Read the series in order:
Article Marketing SEO: Introduction
Article Marketing SEO: Part I

Related Websites
Related Websites
The following two tabs change content below.
I make a living writing, ePublishing, and marketing books and teaching others how to do the same. I have one mission: To turn you into the best writer that you can be while enjoying every minute of it!
Latest posts by Lisa Angelettie (see all)